Applied Antisense Oligonucleotide Technology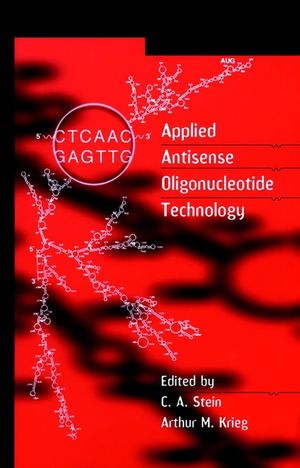 Applied Antisense Oligonucleotide Technology
ISBN: 978-0-471-17279-6 March 1998 540 Pages
Description
Applied Antisense Oligonucleotide Technology provides the basic concepts as well as the practical concerns associated with the use of antisense oligonucleotides to modify gene expression. Chapters include oligonucleotide chemistry, DNA triplex formation, delivery mechanisms, pharmocokinetics, toxicity, oligonucleotides.
Table of contents
CHEMISTRY, OLD AND NEW.

Oligonucleoside Methylphosphonates: Synthesis and Properties (P. Miller).

Oligo(Nucleoside Phosphorothioate)s (P. Guga, et al.).

Modified Oligodeoxynucleotides as Antisense Therapeutics (P. Seeberger & M. Caruthers).

Novel Chemistry (K. Altmann, et al.).

OLIGONUCLEOTIDE INTERNALIZATION, MECHANISM OF ACTION, AND NON-SEQUENCE SPECIFICITY.

Cellular Uptake and Biodistribution of Oligodeoxynucleotides (B. Hanss, et al.).

Use of Cationic Lipid Complexes for Antisense Oligonucleotide Delivery (C. Bennett).

Nonantisense Effects of Antisense Oligonucleotides (L. Neckers & K. Iyer).

Ribonuclease H-Mediated Antisense Effects of Oligonucleotides and Controls for Antisense Experiments (D. Tidd).

SEQUENCE-SPECIFIC INHIBITION OF GENE EXPRESSION.

The Development of C-5 Propyne Oligonucleotides as Inhibitors of Gene Function (W. Flanagan & R. Wagner).

The Use of Antisense Oligonucleotides to Inhibit Expression of Isozymes of Protein Kinase C (N. Dean, et al.).

BCR-ABL as a Target for Antisense Intervention (S. O'Brien & T. Smetsers).

The NF-kB Transcription Factor (R. Narayanan).

Disruption of the Map Kinase Signaling Pathway Using Antisense Oligonucleotide Inhibitors Targeted to RAS and RAF Kinase (B. Monia).

Protein Kinase A-Directed Antisense Blockade of Cancer Growth: Single Gene-Based Therapeutic Approach (Y. Cho-Chung).

Use of Antisense Oligonucleotides in the Central Nervous System: Why Such Success?

(M. McCarthy).

APPLIED ANTISENSE OLIGONUCLEOTIDE THERAPEUTICS.

Perturbing Hematopoietic Cell Gene Expression with Oligodeoxynucleotides: Research and Clinical Applications (A. Gewirtz & M. Ratajczak).

BCL2 (B. Jansen & B. Brown).

Biological Activity of Guanosine Quartet-Forming Oligonucleotides (R. Rando & M. Hogan).

OLIGONUCLEOTIDES AS ANTI-HIV AGENTS.

Perspectives on Antisense Technology Against HIV (J. Gee, et al.).

In Vivo Pharmacokinetics of Oligonucleotides (S. Agrawal).

Early Clinical Trails with Gem 91, A Systemic Oligodeoxynucleotide (R. Martin).

THERAPEUTIC OLIGONUCLEOTIDE DATA BASE: PHARMACOKINETICS, IMMUNE STIMULATION, AND USE AS ANTIRESTENOTIC AGENTS.

Antisense Therapy to Inhibit Angioplasty Restenosis (L. Rabbani & W. Wang).

Pharmacokinetics of Oligonucleotides: A Review of Current Knowledge and Issues for the Future (T. Wallace & P. Cossum).

Leukocyte Stimulation by Oligodeoxynucleotides (A. Krieg).

SELECTED OLIGODEOXYNUCLEOTIDE DEVELOPMENTAL TOPICS: SPLICING AND TRIPLEXES.

Modification of Alternative Splicing of Pre-mRNA by Antisense Oligonucleotides (R. Kole).

Gene-Targeted Triple-Helix-Forming Oligonucleotides (F. Svinarchuk & C. Malvy).

Triplex-Forming Oligonucleotides for Genetic Manipulation: An Alternative View (A. Faruqi & P. Glazer).

A REVIEW OF RIBOZYME TECHNOLOGY.

Therapeutic Ribozymes: Principles, Applications, and Problems (J. Rossi).

Index.
Reviews
"This book will be most useful to workers in the field and advanced graduate students." --The Quarterly Review of Biology, June 1999