Applied Cognitive and Behavioural Approaches to the Treatment of Addiction: A Practical Treatment Guide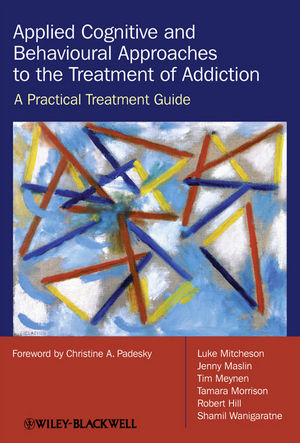 Applied Cognitive and Behavioural Approaches to the Treatment of Addiction: A Practical Treatment Guide
ISBN: 978-0-470-51063-6 May 2010 240 Pages
Description
This new book offers professionals a practical guide to the psychological treatment of all substance abuse, including tobacco, alcohol, stimulant drugs, cannabis and opiates. It focuses on CBT interventions, which have the strongest evidence base for effectiveness in treating addictive disorders.
Written by an author team highly experienced in the treatment of addiction, Applied Cognitive and Behavioural Approaches to the Treatment of Addiction will be accessible to a wide range of professionals, such as specialist nurses, drug counsellors and mental health graduate workers.
The author team are all at the South London and Maudsley NHS Trust, UK. 
Table of contents
About the Authors.
Foreword.
Preface.
List of Abbreviations.
Acknowledgements.
Chapter 1 Introduction to CBT for Substance Use Problems.
Chapter 2 Cognitive and Motivational Theories of Addiction.
Chapter 3 Fundamentals of Treatment.
Chapter 4 Enhancing Motivation to Change.
Chapter 5 Assessment and Introducing CBT to Clients.
Chapter 6 Formulation.
Chapter 7 Introduction to Substance-related Cognitions and Interventions.
Chapter 8 A Basic Framework for Working with Substance-related Beliefs.
Chapter 9 Additional Techniques to Facilitate Cognitive Change.

Chapter 10 Behavioural Experiments.
Chapter 11 Behavioural Interventions.
Chapter 12 Working with Emotions.
Chapter 13 CBT and Pathways to Recovery.
References.
Index.
Reviews
"In conclusion, this is a ground-breaking book that provides a comprehensive overview of the use of CBT with clients with addiction difficulties.  It would be a useful guide for clinicians of varied experience looking to provide a first-rate CBT treatment for clients with addiction difficulties."  (Journal of Behavioural & Cognitive Psychotherapy, 2012)
"A particuular strength of the book is the easily palatable and tasty mix of theory and practice; this is the result of a joing production by six psychologists with over 60 years' combined experience of working with people addicted to substances." (The Psychiatrist, 1 April 2011)