Applied Corporate Finance, 4th Edition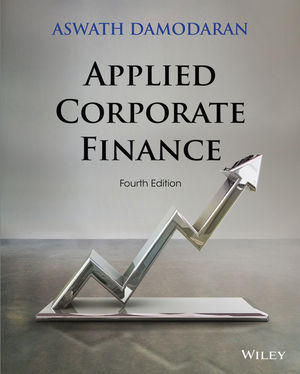 Applied Corporate Finance, 4th Edition
ISBN: 978-1-118-91857-9
Oct 2014
656 pages
Description
Aswath Damodaran, distinguished author, Professor of Finance, and David Margolis, Teaching Fellow at the NYU Stern School of Business, has delivered the newest edition of Applied Corporate Finance.  This readable text provides the practical advice students and practitioners need rather than a sole concentration on debate theory, assumptions, or models.

Like no other text of its kind, Applied Corporate Finance, 4th Edition applies corporate finance to real companies. It now contains six real-world core companies to study and follow.  Business decisions are classified for students into three groups:  investment, financing, and dividend decisions.
Preface

Acknowledgements

Chapter 1 The Foundations

Chapter 2 The Objective in Decision Making

Chapter 3 The Basics of Risk

Chapter 4 Risk Measurement and Hurdle Rates in Practice

Chapter 5 Measuring Return on Investments

Chapter 6 Project Interactions, Side Costs, and Side Benefits

Chapter 7 Capital Structure: Overview of the Financing Decision

Chapter 8 Capital Structure: The Optimal Financial Mix

Chapter 9 Capital Structure: The Financing Details

Chapter 10 Dividend Policy

Chapter 11 Analyzing Cash Returned to Stockholders

Chapter 12 Valuation: Principles and Practice

Appendix 1

Appendix 2

Appendix 3

Appendix 4
Six Firms Analyzed We will look at every aspect of finance through the eyes of six companies, sometimes to draw contrasts between the companies, but more often to show how much they share in common. The six companies are:
1. Disney: Disney is a publicly traded firm with wide holdings in entertainment and media.
2. Bookscape Books: This company is a privately owned independent bookstore in New York City.
3. Vale: Vale is a global metals and mining company that was founded and is still incorporated in Brazil.
4. Baidu: Baidu is a web services company built around a Chinese-language search engine.
5. Deutsche Bank: Deutsche Bank is the leading commercial bank in Germany.
6. Tata Motors: Tata Motors is an automobile company and is part of one of the largest Indian family group companies, the Tata Group.
Concept Questions introduced at the end of each chapter to emphasize active learning
Global Perspective is taken when discussing all featured companies, regardless of where they are incorporated and traded
Students Treated as Future Practitioners The text encourages active learning through live cases and concept questions.
Real Data, Real Time This text uses links to help students gather company information; data sets are available for supporting exercises; spreadsheets are available for further analysis of firms referenced in the book.
Three Classifications of Decision Making Decisions on where to invest the resources or funds that the business has raised, either internally or externally (the investment decision); decisions on where and how to raise funds to finance these investments (the financing decision); and decisions on how much and in what form to return funds back to the owners (dividend decision).
Live Case Studies At the end of each chapter to reinforce the framework for applying the book's theories to a real company.