Applied Homogeneous Catalysis with Organometallic Compounds: A Comprehensive Handbook in Three Volumes, 2nd, Completely Revised and Enlarged Edition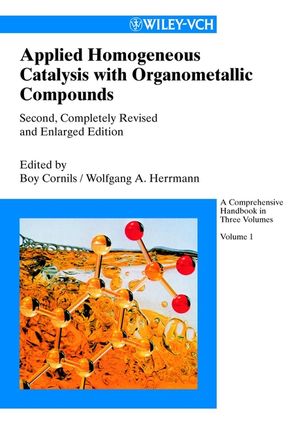 Applied Homogeneous Catalysis with Organometallic Compounds: A Comprehensive Handbook in Three Volumes, 2nd, Completely Revised and Enlarged Edition
ISBN: 978-3-527-61823-1 April 2008 1494 Pages
Description
Homogeneous catalysis is the success story of organometallic chemistry. Since the discovery of hydroformylation by O. Roelen in 1938, catalytic applications have paved the way of organometallic compounds in industry. Bulk and fine chemicals, and even natural products are being produced via homogeneous organometallic catalysis.
The enormous breadth of this topic in view of both basic research and industrial application is met in this three volume handbook edited jointly by W. A. Herrmann and B. Cornils. The list of contributors reads like a who-is-who in organometallic chemistry and homogeneous catalysis. In this handbook, experts will find the current state-of-the-art in their field and advanced students will benefit from the concise treatment of important catalytic reactions and processes. With its balanced presentation of the truly interdisciplinary topic and its outstanding editor- and authorship, the 'Cornils/Herrmann' is beyond common standards. Now in its second, completely revised and enlarged edition!
Table of contents
PART I
Introduction
APPLIED HOMOGENEOUS CATALYSIS
Carbon Monoxide and Synthesis Gas Chemistry
Hydrogenation
Reactions of Unsaturated Compounds
Oxidations
Reactions with Hydrogen Cyanide
Hydrosilylation and Related Reactions of Silicon Compounds
Reaction with Nitrogen Compounds: Hydroamination
Reactions of Hydrocarbons and Other Saturated Compounds
Asymmetric Syntheses
Ferrocenes as Gasoline and Fuel Additive
The Suzuki Cross Coupling

PART II
RECENT DEVELOPMENTS IN HOMOGENEOUS CATALYSIS
Development of Methods
Special Catalysts and Processes

PART III
RECENT DEVELOPMENTS IN HOMOGENEOUS CATALYSIS (continued)
Special Products
EPILOGUE
Homogeneous Catalysis -
Quo Vadis?
Reviews
"...will be of interest to both academics as well as chemists in industry and should be on the shelves of all good chemistry libraries." (Journal of the American Chemical Society, Vol. 125, No. 21, 2003)