Applied Management Science: Modeling, Spreadsheet Analysis, and Communication for Decision Making, 2nd Edition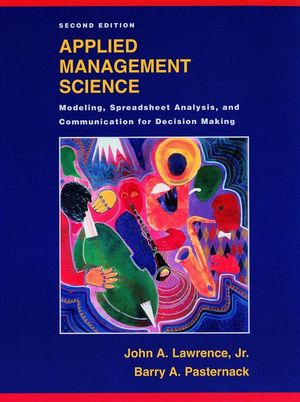 Applied Management Science: Modeling, Spreadsheet Analysis, and Communication for Decision Making, 2nd Edition
ISBN: 978-0-471-39190-6 February 2002 576 Pages
Description
Appropriate for a one semester Soph/Jr/Sr/MBA level course in Management Science, Quantitative Methods for Business, or Operations Research. The second edition uses EXCEL. (WinQSB fans and users from the first edition can package WinQSB with the second edition).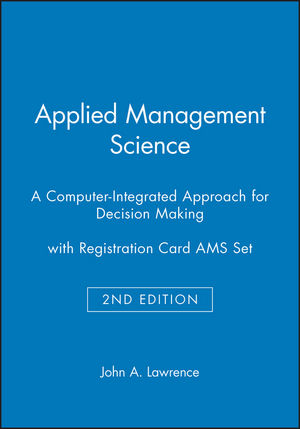 Original Price:$210.95
Purchased Together:$206.95
save $4.00
Introduction to Management Science Models.

Linear and Integer Programming Models.

Applications of Linear and Integer Programming Models.

Network Models.

Project Scheduling Models.

Decision Models.

Forecasting.

Inventory Models.

Queuing Models.

Simulation Models.

Appendix A: Standard Normal Distribution.

Appendix B: Partial Expectations of the Standard Normal Distribution.

Appendix C: Pseudo-Random Numbers.

Appendix D: t-Distribution.

Appendix E: X¯2 Distribution.

Appendix F: F Distribution.

Appendix G: Constants for Quality Control Charts.

Appendix H: Critical Values of Spearman's Rank Correlation Coefficient.

Glossary.

Answers to Selected Problems.

Photo Credis.

Index.
Excel templates. These templates are built into the text. The L&P difference is that the EXCEL templates are partially constructed so that the focus is on learning about management science and not about learning EXCEL
Streamlined coverage
Chapter 3 in full color to show power and flexibility of spreadsheet modeling and solutions.
Increased volume and variety of end of chapter problems
CD in text includes Crystal Ball, Tree Plan, and Extend
Simulation chapter expanded and improved
Strong emphasis on modeling and analysis instead of plug and chug solution of problems. For each concept, the authors build the model first, then solve with spreadsheets.
Unique emphasis on the interpretation, and communication of results to management. Teaches the relevance of management science for business decision making.
Superior end of chapter problems - challenging, relevant, varied. Non-trivial examples in the text reinforce chapter concepts.
Wider variety of topics, including quality management and Markov Processes as optional chapters on the accompanying CD.