Applied Strategic Planning: An Introduction, 2nd Edition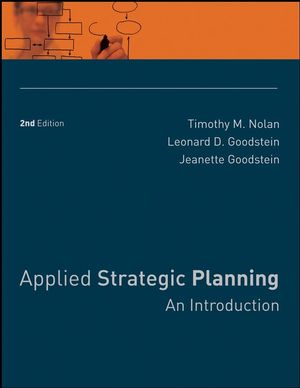 Applied Strategic Planning: An Introduction, 2nd Edition
ISBN: 978-0-787-98852-4
Jul 2008, Pfeiffer
152 pages
Description
This guidebook provides an overview to the proven Applied Strategic Planning process. Written for the planning team and other key members who will participate in the process, this important resource offers encouragement for the team who must provide data for the planning process and helps to identify questions for further discussion. The Applied Strategic Planning approach helps organizations identify their ideal future and develop a plan to achieve that future. ASP is highly responsive to environments undergoing rapid change, where the very rules of doing business are constantly shifting. The companion The Applied Strategic Planning Consultant's Toolkit—written by the consultants who created the process—includes the tools, techniques and processes that can help guide an organization through the strategic planning process.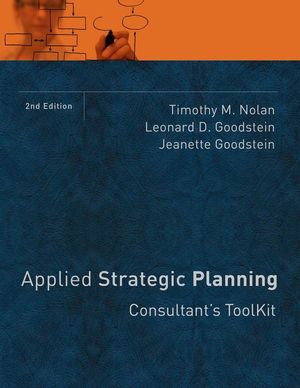 This item: Applied Strategic Planning: An Introduction, 2nd Edition
Purchased Together:$500.00
Preface.
CHAPTER 1: INTRODUCTION TO APPLIED STRATEGIC PLANNING.
CHAPTER 2: ROLE OF THE CONSULTANT.
CHAPTER 3: THINKING SKILLS.
CHAPTER 4: PLANNING TO PLAN.
CHAPTER 5: VALUES AND CULTURE.
CHAPTER 6: MISSION FORMULATION.
CHAPTER 7: STRATEGIC BUSINESS MODELING.
CHAPTER 8: PERFORMANCE AUDIT.
CHAPTER 9: GAP ANALYSIS AND CLOSURE.
CHAPTER 10: INTEGRATING ACTION PLANS.
CHAPTER 11: CONTINGENCY PLANNING.
CHAPTER 12: IMPLEMENTING YOUR PLAN.
References.
About the Authors.