Applying IFRS for SMEs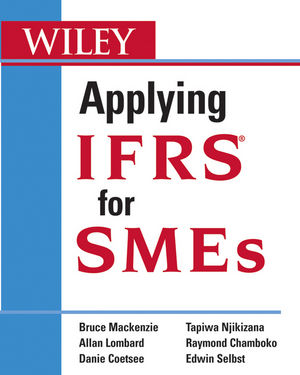 Applying IFRS for SMEs
ISBN: 978-0-470-60337-6
Dec 2010
484 pages
Description
An invaluable aid to companies and auditors involved in first-time adoption of the new SMEs standard
Applying the IFRS for SMEs provides expert insights and explanations of the International Financial Reporting Standards (IFRS) for small and medium enterprises (SMEs) issued by the International Accounting Standards Board (IASB). This important book includes comprehensive coverage of this recently issued standard aimed at small and medium-sized businesses.
Provides essential coverage for application of IFRS-now a necessity in the accounting world
Includes Foreword by Paul Pacter, Director of Standards for SMEs, IASB
Offers commentary on the theory in the standard, illustrative disclosures, comprehensive illustrative financial statements and comparisons to full IFRS
Includes relevant real life worked out examples aimed at SMEs, plus summaries of important points
The first book on how to apply the new SMEs standard, Applying the IFRS for SMEs is a must-have book for your small or medium-sized business.
Foreword.
Preface.
List of Abbreviations.
Chapter 1 Scope of the IFRS for SMEs.
Chapter 2 Concepts and Pervasive Principles.
Chapter 3 Financial Statement Presentation.
Chapter 4 Statement of Cash Flows.
Chapter 5 Consolidated and Separate Financial Statements.
Chapter 6 Business Combinations and Goodwill.
Chapter 7 Accounting Policies, Estimates, and Errors.
Chapter 8 Inventories.
Chapter 9 Investments in Associates.
Chapter 10 Investments in Joint Ventures.
Chapter 11 Investment Property.
Chapter 12 Property, Plant, and Equipment.
Chapter 13 Intangible Assets Other than Goodwill.
Chapter 14 Impairment of Assets.
Chapter 15 Provisions and Contingencies.
Chapter 16 Liabilities and Equity.
Chapter 17 Financial Instruments.
Chapter 18 Leases.
Chapter 19 Share-Based Payment.
Chapter 20 Employee Benefits.
Chapter 21 Income Tax.
Chapter 22 Revenue.
Chapter 23 Government Grants.
Chapter 24 Borrowing Costs.
Chapter 25 Foreign Currency Translation.
Chapter 26 Hyperinflation.
Chapter 27 Events after the End of the Reporting Period.
Chapter 28 Related Party Disclosures.
Chapter 29 Specialized Activities.
Chapter 30 Transition to the IFRS for SMEs.
Index.