Appreciative Inquiry for Collaborative Solutions: 21 Strength-Based Workshops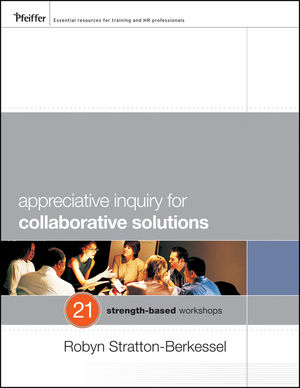 Appreciative Inquiry for Collaborative Solutions: 21 Strength-Based Workshops
ISBN: 978-0-470-48316-9
Feb 2010, Pfeiffer
208 pages
Description
A practical resource for facilitators who want to introduce positive, strength-based perspectives into their work and trainings, this book provides an overview of Appreciative Inquiry's positive psychology and strength-based change methods. Author Robyn Stratton-Berkessel explores basic principles and practices, shows you how to incorporate AI into existing work, and offers practical advice for designing new trainings. She provides a variety of ready-to-deliver workshops on topics such as leadership, diversity, technology, creativity, change, innovation, learning, collaboration, coaching, and team-building. In addition, she suggests how to make the outcomes of an Appreciative Inquiry session stick and what it takes to make these valuable approaches self-sustaining.

A first in the field of Appreciative Inquiry, this important resource provides twenty one ready-to-use workshops for facilitators, leaders, consultants, and trainers who want to empower others in creating collaborative solutions.

"What you learn in a single book can change everything. Appreciative Inquiry for Collaborative Solutions is Robyn Stratton-Berkessel at her very best?helping all of us open ourselves to our best selves, envision possibilities, and get in touch with our own and other's strengths. A brilliantly applied book?with over 21 workshops ready for prime time delivery?helping leaders tap the revolutionary power of appreciative inquiry or "AI" for creating value for customers, suppliers, team members, shareholders, and families. Are you ready to walk on the strengths-based side of organization development and leadership? This inspiring volume will propel you upward step by step?it takes AI from concept to reality in an eloquent, empowering, and utterly engaging way."
?David Cooperrider, Fairmount Minerals Professor at Case Western Reserve University's Weatherhead School of Management

"Both inspiring and highly practical, this book will be an invaluable and no doubt well-thumbed addition to your library of Appreciative Inquiry resources, whether you are a novice or an experienced practitioner!"
?Sue James, partner, BJ Seminars

"Ms. Stratton-Berkessel's work leaves the reader with a clear understanding of why Appreciative Inquiry is such a powerful change model. Those new to Appreciative Inquiry will marvel at her unique explanation of the 'phases' of Appreciative Inquiry. Those more familiar with Appreciative Inquiry will enjoy her explanations and examples."
?Timothy Germany, commissioner, Federal Mediation and Conciliation Service

"A practical approach grounded in personal experience...[this book] shows that Appreciative Inquiry is not a luxury but a necessity for organizational success."
?Annalie Killian, catalyst for magic AMP, producer of the AMPLIFY Innovation & Thought Leadership Festival, Sydney, Australia
About the Website.
Appreciations.
INTRODUCTION.
What Is Appreciative Inquiry?
What This Book Contains.
How to Use This Book.
Value for the Organization.
PART I CONTEXT SETTING.
Providing a Personal Context.
Waking Up.
Shifting the Paradigm.
Organizational Contexts.
Fresh Influences.
Calling of Our Times.
PART II OVERVIEW OF APPRECIATIVE INQUIRY AND POSITIVE, STRENGTH-BASED APPROACHES TO HUMAN AND ORGANIZATION DEVELOPMENT.
A Symphony of Strengths.
Appreciative Inquiry.
Positive Psychology.
Strength-Based Movement.
PART III COLLABORATIVE WORKSHOPS.
Introduction.
Workshop Design Principles.
Workshop Practice: What You Can Expect.
Workshop Titles: Affirmative Topics.
Purpose of the Workshops.
Objectives of theWorkshops.
Workshop Selection.
Workshop Duration and Participant Selection.
Structure of Content.
Facilitation Process.
General Guidelines for All Workshops.
Summary of Process.
WORKSHOPS.
Creating Change Positively.
Shared Leadership.
Appreciating Collaborations.
Valuing Technology.
Unleashing Creativity for Continuous Innovation.
High-Performing Teams.
Compassionate Connections.
Strength-Based Coaching.
Respectful Relationships.
Business As a Positive Agent for Change—Leaving a Legacy.
Nurturing Diversity.
Flourishing Communities.
Peak Performance—Being in Flow.
Caring for Our Environment.
Learning at a New Level.
Working with Integrity.
Purpose-Driven Selling.
Global Interconnectivity.
Generations Working Together.
Juggling It All!
Building Capacity Through Strengths.
PART IV DESIGNING YOUR OWN STRENGTH-BASED WORKSHOPS.
Introduction.
Review of Workshop Design.
Participants and Leadership.
Valuing the Appreciative Inquiry Experience.
Closing Reflections.
Selected Bibliography.
Websites.
About the Author.