Approaches to Media Discourse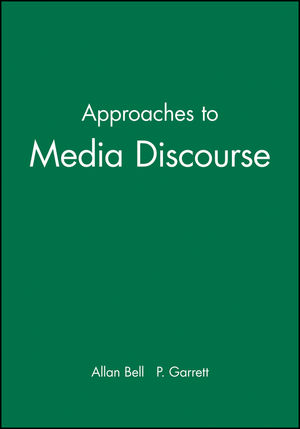 Approaches to Media Discourse
ISBN: 978-0-631-19888-8 March 1998 Wiley-Blackwell 304 Pages
Description
This collection brings together in one volume current leading approaches to the study of media discourse.
Preface.
Notes on Contributors.
Acknowledgements.
Chapter 1. Media and Discourse: A Critical Overview: Peter Garrett and Allan Bell.
Chapter 2. Opinions and Ideologies in the Press: Teun A. van Dijk.
Chapter 3. The Discourse Structure of News Stories: Allan Bell.
Chapter 4. News from Nowhere: Televisual News Discourse and the Construction of Hegemony: Stuart Allan.
Chapter 5. Political Discourse in the Media: An Analytical Framework: Norman Fairclough.
Chapter 6. Conversation Analysis: Neutralism in British News Interviews: David Greatbatch.
Chapter 7. Front Pages: (The Critical) Analysis of Newspaper Layout: Gunther Kress and Theo van Leeuwen.
Chapter8. Signs and Wonders: Interpreting the Economy through Television: Kay Richardson.
Chapter 9. Media-Language-World: Paddy Scannel.
References.
Index.
"A state-of-the-art presentation, invaluable for students and researchers in the growing field of media discourse." Roger Fowler, University of East Anglia
"This admirable collection of papers by some of the most eminent scholars in the field of media studies combines breadth of coverage with depth of analysis, and programmatic methodological statements with detailed empirical studies. It will be an indispensable text in its field for many years to come." Andreas H. Jucker, Professor of English Linguistics, Justus Liebig University Giessen

"A useful entry point for anyone seeking to understand the diverse approaches found under the umbrella of media 'discourse'." Jean Aitchison, Professor of Language and Communication, University of Oxford

"Leading writers on media discourse introduce their theoretical methods and make them work on specific instances from the press, radio and television. Readers can test and compare the applicability and relevance of various approaches and adopt them to their own examination of the media." Ulrike H. Meinhof, University of Bradford

"It would be difficult to dream up a more impressive list of names for a collection of papers on media discourse...I started reading with high expectations and was not disappointed... I would strongly recommend this book not only to students of media discourse in particular, but to anyone with an interest in cultural studies, text and discourse analysis or indeed any aspect of language in action, not excluding visual semiotics. It would make an excellent key reader for students in these or related fields." Thomas Bloor, Language Studies Unit, Aston University
* Includes the leading authors in all main areas of media discourse.
* Includes brief description of the approaches framework followed by example analysis.