Approaching the Italian Renaissance Interior: Sources, Methodologies, Debates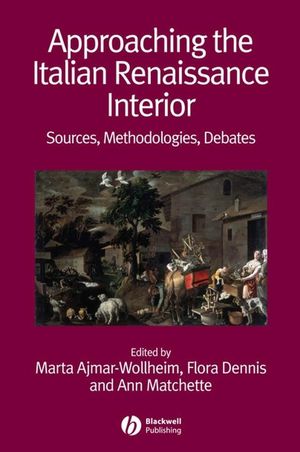 Approaching the Italian Renaissance Interior: Sources, Methodologies, Debates
ISBN: 978-1-405-16175-6 October 2007 Wiley-Blackwell 144 Pages
Description
This collection provides a genuinely fresh outlook on the Italian interior and will form a rich resource for scholars and students of the Renaissance.



Brings together an interdisciplinary group of scholars, combining innovative approaches, case studies, and methodological critiques

Expands the discourse on the Renaissance home, ultimately challenging traditional notions of public and private, interior and exterior, ideals and reality

Examines under-studied spaces of the interior, such as baths and chapels, and offers new insights into more familiar topics such as identity, status, and family memory

Includes a wide range of primary sources from visual and material evidence to archival documents
Editorial: John E. Law.
1. Approaching The Italian Renaissance Interior: Sources, Methodologies, Debates: Marta Ajmar-Wollheim, Flora Dennis and Ann Matchette.
2. 'Contrary To The Truth And Also To The Semblance Of Reality'? Entering A Venetian 'Lying-In' Chamber (1605): Patricia Allerston.
3. Sacred To Secular, East To West: The Renaissance Study And Strategies Of Display: Maria Ruvoldt.
4. Domestic Sacral Space In The Florentine Renaissance Palace: Philip Mattox.
5. Bathing All'antica: Bathrooms In Genoese Villas And Palaces In The Sixteenth Century: Stephanie Hanke.
6. To Have And Have Not: The Disposal Of Household Furnishings In Florence: Ann Matchette.
7. Creating Sacred Space: The Religious Visual Culture of the Renaissance Venetian Casa: Margaret A. Morse.
Index
"In all, this is a lucid, concise, up-to-date, yet comprehensive account of intellectual debates about the existence of God. It is easy enough to be used by senior high school students, and could certainly be useful in undergraduate courses in philosophy of religion. It's not the be-all-end-all of the subject, has its thinner passages, and should not be cited as an unchallengeable authority. But again ... The God Debates is an accessible, thoughtful, cogent book. Shook has filled an important gap." (Metamagician and the Hellfire Club, 30 October 2010)
"This is a strong and unified collection of essays that offers not only numerous examples, nicely illustrated with a wide selection of images, but also dearly situates the findings in the historiographical literature." (Sixteenth Century Journal, September 2009)


Provides a genuinely fresh outlook on the Italian interior and will form a rich resource for scholars and students of the Renaissance

Brings together an interdisciplinary group of scholars, combining innovative approaches, case studies, and methodological critiques

Expands the discourse on the Renaissance home, ultimately challenging traditional notions of public and private, interior and exterior, ideals and reality

Examines under-studied spaces of the interior, such as baths and chapels, and offers new insights into more familiar topics such as identity, status, and family memory

Includes a wide range of primary sources from visual and material evidence to archival documents