Aquaculture Biotechnology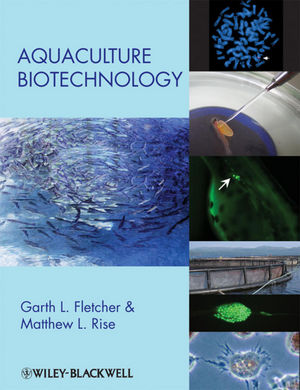 Aquaculture Biotechnology
ISBN: 978-0-470-96309-8 October 2011 Wiley-Blackwell 390 Pages
Description
This important book looks at a broad spectrum of biotech research efforts and their applications to the aquaculture industry. Aquaculture Biotechnology provides key reviews that look at the application of genetic, cellular, and molecular technologies to enable fish farmers to produce a more abundant, resilient, and healthier supply of seafood. Aquaculture Biotechnology is divided into seven sections and nineteen chapters that cover topics ranging from broodstock improvement to fish health and gene transfer. With chapters provided by leading researchers and skillfully edited by top scientists in the field, this will be a valuable tool to researchers, producers, and students interested in better understanding this dynamic field of aquaculture.
Preface xi
Garth L. Fletcher and Matthew L. Rise
Contributors xv
Part 1: Broodstock Improvement 1
Chapter 1 Genomic Tools for Understanding the Molecular Basis of Production-Relevant Traits in Finfish 3
Marije Booman and Matthew L. Rise
Chapter 2 Advances in Genomics and Genetics of Penaeid Shrimp 21
Javier Robalino, Robert W. Chapman, Enrique de la Vega, Nuala A. O'Leary, Danielle M. Gorbach, Zhi-Qiang Du, Max F. Rothschild, Craig L. Browdy, Gregory W. Warr, and Yannick Labreuche
Chapter 3 Genetic and Genomic Approaches to Atlantic Halibut Broodstock Management 43
Michael Reith, Darrin Reid, Debbie Martin-Robichaud, and Tillmann Benfey
Chapter 4 Prospects and Pitfalls of Clonal Fishes in the Postgenomic Era 55
Barrie D. Robison and Gary H. Thorgaard
Part 2: Molecular Cytogenetics 69
Chapter 5 Application of Fluorescence In Situ Hybridization (FISH) to Aquaculture-Related Research 71
Ruth B. Phillips
Part 3: Fish Health 81
Chapter 6 The Application of Genomics, Proteomics, and Metabolomics to Studies of Fish Health 83
Stewart C. Johnson and Laura L. Brown
Chapter 7 Antimicrobial Peptides and Their Potential as Therapeutants in Aquaculture 105
Susan E. Douglas
Chapter 8 Adaptive Immunity in Finfish: A Physiological Perspective 121
Brian Dixon and Leandro A. Becker
Part 4: Viral Pathogens and Diseases 139
Chapter 9 Structural Biology and Functional Genomics of the Shrimp White Spot Syndrome Virus and Singapore Grouper Iridovirus 141
Jinlu Wu, Zhengjun Li, and Choy L. Hew
Chapter 10 DNA Vaccines for Viral Diseases of Farmed Fish and Shellfish 153
Jo-Ann C. Leong, Kristine Romoren, and Oystein Evensen
Part 5: Embryogenesis and Stem Cells 175
Chapter 11 Egg Transcriptome, the Maternal Legacy to the Embryo 177
Juan Martin Traverso, Alexis Fostier, and Julien Bobe
Chapter 12 Application of Fish Stem Cell Technology to Aquaculture and Marine Biotechnology 193
Ten-Tsao Wong and Paul Collodi
Chapter 13 Culture of Fish Head Kidney Mononuclear Phagocytes and Muscle Satellite Cells: Valuable Models for Aquaculture Biotechnology Research 207
Frederick W. Goetz, Josep V. Planas, Monica Dıaz, Dimitar B. Iliev, and Simon MacKenzie
Chapter 14 Germ Cell Transplantation in Fish: Basic Biology and Biotechnological Applications 223
Goro Yoshizaki, Tomoyuki Okutsu, and Yutaka Takeuchi
Part 6: Gene Transfer 233
Chapter 15 Spatial and Temporal Regulation of Transgene Expression in Fish 235
Ryan MacDonald and Marc Ekker
Chapter 16 Antifreeze Protein Gene Transfer—Promises, Challenges, and Lessons from Nature 253
Garth L. Fletcher and Peter L. Davies
Chapter 17 Potential Applications of Transgenic Fish to Environmental Monitoring and Toxicology 267
Hwee Boon Grace Ng, Siew Hong Lam, Hendrian Sukardi, and Zhiyuan Gong
Chapter 18 Transgenic Tilapia for Xenotransplantation 281
James R. Wright Jr., Olga Hrytsenko, and Bill Pohajdak
Chapter 19 The Potential of Enhancing Muscle Growth in Cultured Fish through the Inhibition of Members of the Transforming Growth Factor-β Superfamily 291
Michael P. Phelps and Terence M. Bradley
Part 7: Cryopreservation 303
Chapter 20 Fish Gamete and Embryo Cryopreservation: State of the Art 305
Paz Herraez, Elsa Cabrita, and Vanesa Robles
Part 8: Environmental Considerations 319
Chapter 21 The Potential Ecological and Genetic Impacts of Aquaculture Biotechnologies: Eco-Evolutionary Considerations for Managing the Blue Revolution 321
Darek T.R. Moreau and Ian A. Fleming
Part 9: Ethical Issues 343
Chapter 22 Aquaculture Ethics in the Biotechnology Century 345
Lyne Letourneau
Index 355
Color plates appear between pages 222 and 223.
"The book is well-written and includes clear illustrations and images, as well as extensive references. The book will attract readers with an interest in traditional and emerging aquaculture biotechnologies."  (Book News, 1 April 2012)
""Review quote is Aquaculture Biotechnology is a useful compilation that provides readers with state-of-the-art overviews of the potential applications of several biotechnological techniques in Aquaculture.""  (Aquaculture International, 19th March 2012)