Aquaculture Marketing Handbook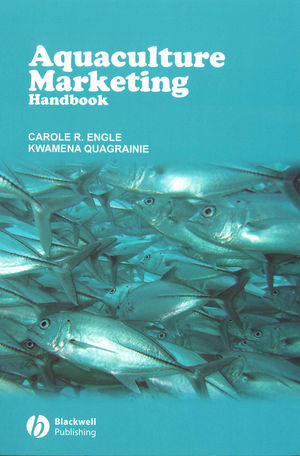 Aquaculture Marketing Handbook
ISBN: 978-0-470-27643-3
Feb 2008, Wiley-Blackwell
271 pages
Description
Markets, marketing, and trade have become ever more important to growing aquaculture industries worldwide. The diversity and idiosyncrasies of the aquaculture and seafood markets call for understanding information that is unique to these markets. Presenting fundamental principles of marketing and economics from a user-friendly, how-to perspective, the Aquaculture Marketing Handbook will provide the reader with the tools necessary to evaluate and adapt to changing market conditions.





The Aquaculture Marketing Handbook provides the reader with a broad base of information regarding aquaculture economics, markets, and marketing. In addition, this volume also contains an extensive annotated bibliography and webliography that provide descriptions to key additional sources of information.





Written by authors with vast international aquaculture marketing experience, the Aquaculture Marketing Handbook is an important introduction to aquaculture marketing for those interested in aquaculture and those new to the professional field. The body of knowledge presented in this book will also make it a valuable reference for even the most experienced aquaculture professional.
Forewrod.
Preface.
CHAPTER 1. Seafood and Aquaculture Markets.
CHAPTER 2. Demand and Supply of Seafood and Aquaculture Products.
CHAPTER 3. Aquaculture Marketing Concepts.
CHAPTER 4. Aquaculture Growers and their Marketing Choices.
CHAPTER 5. Seafood and Aquaculture Product Processing.
CHAPTER 6. Participation and Leadership In Marketing.
CHAPTER 7. Marketing by Farmer Groups.
CHAPTER 8. Wholesaler Marketing.
CHAPTER 9. Market Trends.
CHAPTER 10. The International Market for Seafood and Aquaculture Products.
CHAPTER 11. Policies and Regulations Governing Aquaculture Marketing in the United States.
CHAPTER 12. Planning Marketing Strategies (Identifying Target Markets).
CHAPTER 13. Marketing Research Methodologies.
*ANNOTATED BIBLIOGRAPHY OF AQUACULTURE MARKETING INFORMATION SOURCES.
*ANNOTATED WEBLIOGRAPHY OF SOURCES OF DATA AND INFORMATION FOR AQUACULTURE MARKETING.
*GLOSSARY.
*Name Index.
Subject Index
"This is an excellent book, and is written for the student, it would serve as an excellent textbook), farmer, extension specialist, and just about anyone involved with aquaculture." "There are so few aquaculture marketing books available when compared to other aquaculture subjects that this book is a rare find. It forms a foundation for the subject of marketing. I recommend it very highly."
Aquaculture Magazine May/June 2006 p. 63<!--end-->
"This concise handbook covering the topic of aquaculture marketing is long overdue."
Aquaculture International

"The Aquaculture Marketing Handbook will provide the reader with the tools necessary to evaluate and adapt to changing market conditions."
Aquaculture Europe

"Packed with ideas and suggestions as well as some very good down-to-earth guidance on both market research and marketing…A pleasant surprise." Ausmarine


Provides a broad base of information on aquaculture economics, markets, and marketing


Contains an extensive bibliography and webliography to aid further study


Authors possess vast international aquaculture marketing experience