Aquatic Pollution: An Introductory Text, 3rd Edition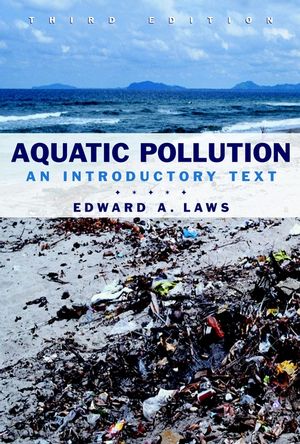 Aquatic Pollution: An Introductory Text, 3rd Edition
ISBN: 978-0-471-34875-7
Sep 2000
672 pages
Description
A clear, straightforward presentation of concepts and issues in aquatic pollution

This comprehensive introductory text presents a systematic study of pollution in oceans, lakes, streams, and underground aquifers. In a clear, straightforward style that is easily accessible to nonscientists, it describes the sources, features, and effects of thirteen different types of aquatic pollution.

Fully updated to reflect current understanding and recent developments, this Third Edition of Aquatic Pollution covers every aspect of pollution associated with urban runoff, acid rain, sewage disposal, pesticides, oil spills, nutrient loading, and more. Case studies of major pollution sites such as Lake Erie, Three Mile Island, and the Rocky Mountain Arsenal help to illustrate points made in the general discussion. Important features of this new edition include:
* Updated discussions of nonpoint source pollution, industrial pollution, thermal pollution, pathogens, metals, plastics, and more
* New case studies of Chesapeake Bay and the Exxon Valdez
* Beginning-of-chapter outlines
* End-of-chapter study questions
* New special section on units of measurement
* Four chapters on the fundamentals of ecology and toxicology

Aquatic Pollution, Third Edition, is a first-rate teaching and learning tool for courses in environmental science, zoology, oceanography, biology, and civil or sanitary engineering. It is also an excellent primer for policymakers and activists focused on environmental issues.
Fundamental Concepts.

Photosynthesis.

Physical Factors Affecting Production.

Cultural Eutrophication-Case Studies.

Nonpoint Source Pollution.

Sewage Treatment.

Pathogens in Natural Waters.

Toxicology.

Industrial Pollution.

Pesticides.

Thermal Pollution and Power Plants.

Metals.

Oil Pollution.

Radioactivity.

Acid Deposition.

Groundwater Pollution.

Plastics in the Sea.

Glossary.

Units of Measurement and Abbreviations.

Index.
""Each pollution issue is made clear and interesting by using one or more examples."" (International Jnl of Environment & Pollution, Vol.15, No.6, 2001)