Arab Nationalism: A History Nation and State in the Arab World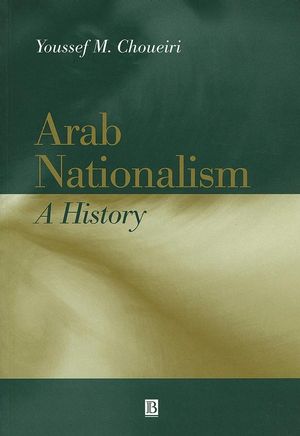 Arab Nationalism: A History Nation and State in the Arab World
ISBN: 978-0-631-21729-9
Mar 2001, Wiley-Blackwell
284 pages
Description
This is a much needed, concise survey of Arab nationalism both as an historical movement and a doctrine. The author identifies the particular characteristics and development of Arab nationalism and provides a wide-ranging history.
Buy Both and Save 25%!
Original Price:$131.90
Purchased together:$98.93
save $32.97
Cannot be combined with any other offers.
Buy Both and Save 25%!
Original Price:$86.90
Purchased together:$65.18
save $21.72
Cannot be combined with any other offers.
Preface.
Acknowledgements.
Glossary.
1. Nationalism and Its Theories.
The World of Unbelief and Negative Approaches.
Rousseau's Passion.
Kant's Guilt.
The World of Positive Belief.
A Question of Dignity.
The Agnostics or Reluctantly Neutral.
2. Narrating the Nation.
Lessons of History.
The Rise of Islam.
The Modern Age.
Darwish al-Miqdadi: The Nation in History.
Historical Structures.
Lessons of History and Temporal Distances.
An Egyptian Perspective.
Islam and Arabism.
3. Cultural and Political Arabism.
The Ottoman Background and European Rivalry.
Cultural Arabism.
The Fatherland and Patriotism.
The Cultural and the Political.
Political Arabism 1900-1945.
Articulation of Pan-Arabism.
Political Parties.
4. Educating the Nation: Sati' al-Husri.
The Arab League.
What is Nationalism?.
5. In Search of Theory.
Regionalism.
An Arab Polity.
Al-Arsuzi: Language and Industry.
Shahbandar: Leadership and Revolution.
Michel 'Aflaq: The Vanguard.
Socialism.
Nationalism.
Religion.
New Politics.
6. Socialism and Pan-Arabism.
The World of Social Arab Nationalism.
Nasserism.
Political Orientations.
Theory and Practice.
The Universal and the Specific.
Ba'thism.
7. Epilogue: Civil Society and Democracy.
Neo-Arabism.
Notes.
List of Dynasties.
Further Reading.
Bibliography.
Index.
"[Choueiri] provides a wealth of detail based on the writings of al-Miqdadi, Ghurbal ... and many others. Largely expository in style, his book describes what they have to say about the Arab nation and about the political programmes needed to realize its potential. In doing so, he brings out the differences among them and sympathetically assesses the problems many encountered."
Times Literary Supplement
<!
-
-end-->
"Recommended particularly for university libraries and those interested in political theory and Middle East studies." CHOICE

"Arab Nationalism is a well-written, fact-filled book that constitutes a useful single-volume study of the evolution of Arabism. It is well-suited for readers who have in interest in the international nuances and development of nationalism and for those Middle East history enthusiasts who wish to delve into a more specialized topic." History: Reviews of New Books


A timely publication as Arab nationalism is being challenged by the emergence of Islamic fundamentalism and the impact of a host of religio-ethnic problems.


The only book to provide such a breadth of Arab nationalist history.


Shows how the study of Arab nationalism is bound up with the development of the modern Arab world.


Includes study aids such as beginning of chapter chronologies, a glossary of unfamiliar terms, and a guide to further reading.


Clear, well-organised style makes the book ideal for students on a range of courses.