Archaeological Semiotics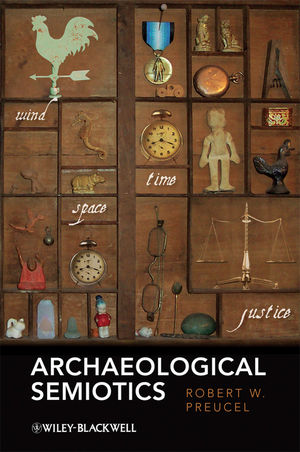 Archaeological Semiotics
ISBN: 978-1-405-19913-1 April 2010 Wiley-Blackwell 352 Pages
Description
This interdisciplinary book examines archaeology's engagement with semiotics, from its early structuralist beginnings to its more recent Peircian encounters. It represents the first sustained engagement with Peircian semiotics in archaeology, as well as the first discussion of how pragmatic anthropology articulates with anthropological archaeology. Its central thesis is that archaeology is a distinctive kind of semiotic enterprise; one devoted to giving meaning to the past in the present through the study of materiality. It compliments standard studies of linguistics and reformulates contemporary theories of material culture.
Providing an introduction to Saussure and a review of his legacy across structural, symbolic, and cognitive anthropology, Preucel goes on to present the Peircian alternative and highlights its influence on pragmatic anthropology. Of special interest are the discussions of the interrelations of structuralism and processual archaeology, poststructuralism and postprocessual archaeologies, and cognitive science and cognitive archaeology. The author offers two original case studies demonstrating how material culture pragmatically mediates social relations- one focusing on the aftermath of the Pueblo Revolt from 1680-1694 and the other on the New England utopian community of Brook Farm from 1842-1846.
Throughout his analysis, Preucel emphasizes the close links between archaeology and other social sciences. But he also contends that archaeology, by virtue of the powerful ideological character of the past, can open up new spaces for discourse and dialogue about meaning, and, in the process, make a valuable contribution to contemporary semiotics.
Cannot be combined with any other offers.
Original Price:$91.90
Purchased together:$68.93
save $22.97
Table of contents
List of Figures.
List of Tables.
Preface.
Acknowledgments.
1. Introduction.
What is Semiotics?.
Archaeology and Semiotics.
Theorizing Material Culture.
Organization of Book.
Part I. Signs of Meaning.
2. Saussure and his Legacy.
Ferdinand de Saussure.
Semiology and Structural Lingustics.
Saussure and Modern Linguistics.
Structural Anthropology.
Symbolic and Cognitive Anthropology.
Summary.
3. The Peircian Alternative.
Charles Sanders Peirce.
Semeiotics.
Peirce and Modern Philosophy.
Peirce and Modern Linguistics.
The Life of the Sign.
Summary.
4. Pragmatic Anthropology.
Peircian Encounters.
Indexicality.
Self and Social Identity.
Material Culture Meanings.
Summary.
Part II: Aspects of a Semiotic Archaeology.
5. Structuralism and Processal Archaeology.
A Brief History of Processual Archaeology.
Rules and Representations.
Information Exchange.
Ideology and Structural Marxism.
Summary.
6. Poststructuralism and Postprocessual Archaeologies.
A Brief History of Postprocessual Archaeologies.
From Structure to Practice.
Reading Material Culture.
Material Culture as Text.
Material Metaphors.
Summary.
7. Cognitive Science and Cognitive Archaeology.
A Brief History of Cognitive Archaeology.
The Evolution of Mind.
Cognitive Processes.
Summary.
Part III: Archaeological Case Studies.
8. Brook Farm and Architecture of Utopia.
Utopian Architecture.
The Brook Farm Historical Site.
Semiotic Ideologies of Social Reform.
Finding Utopia.
Houses as Social Actors.
Representing Brook Farm.
Conclusions.
9. In the Aftermath of the Pueblo Revolt.
The New Mexico Colony.
The Pueblo Revitalization Movement.
"Living in Accord with the Laws of the Ancestors".
Kotyiti Archaeology.
Social Dynamics at Kotyiti Pueblo.
Regional Settlement Pattern.
Signs of the Times.
Conclusions.
10. Material Meanings in Practice.
On Cables and Chains.
Integrating Words and Things.
Semiotic Ideologies.
Towards a Pragmatic Archaeology.
Notes.
Bibliography.
Index.