Archaeologies of the Middle East: Critical Perspectives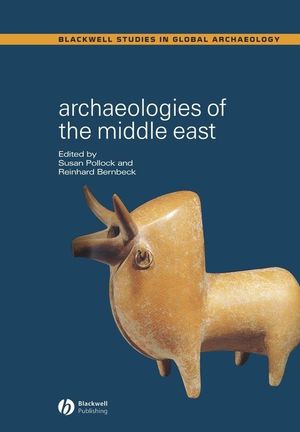 Archaeologies of the Middle East: Critical Perspectives
ISBN: 978-0-631-23001-4 December 2004 Wiley-Blackwell 378 Pages
Description
Archaeologies of the Middle East provides an innovative introduction to the archaeology of this fascinating region and a window on both its past and present.

Written by some of the top archaeologists of the Middle East: scholars from diverse backgrounds with a wide range of interests and intellectual approaches

Coverage spans 100,000 years: from the Paleolithic to Hellenistic times

Explores the connections between modern-day politics and the social context of archaeological practice and various underutilized approaches to archaeological interpretation

Designed for student use
List of Figures.
List of Tables.
List of Contributors.
Series Editors' Preface.
Acknowledgments.
1. Introduction: Susan Pollock and Reinhard Bernbeck (Binghamton University, SUNY; Binghamton University, SUNY).
2. A Cultural-Historical Framework: Reinhard Bernbeck and Susan Pollock.
Part I: Producing and Disseminating Knowledge About the Ancient Near East: Reinhard Bernbeck and Susan Pollock.
3. Who Has Not Eaten Cherries with the Devil? Archaeology under Challenge: Caroline Steele (Independent Scholar).
4. Archaeology and Nationalism in the Holy Land: Adel Yahya (Palestinian Association for Cultural Exchange).
5. Archaeology Goes to War at the Newstand: Susan Pollock.
6. The Past as Fact and Fiction: From Historical Novels to Novel Histories: Reinhard Bernbeck.
Part II: Reassessing Evolutionary "Firsts": Reinhard Bernbeck and Susan Pollock.
7. Bleeding or Breeding: Neandertals vs. Early Modern Humans in the Middle Paleolithic Levant : John Shea (Stony Brook University, SUNY).
8. Lumps of Clay and Pieces of Stone: Ambiguity, Bodies, and Identity as Portrayed in Neolithic Figurines: Ian Kuijt and Meredith Chesson (University of Notre Dame; University of Notre Dame).
9. The State: The Process of State Formation as Seen from Mesopotamia: Jean-Daniel Forest (Centre National de la Recherche Scientifique, Paris).
10. Archaeology, Bible, and the History of the Levant in the Iron Age: Israel Finkelstein (Institute of Archaeology, Tel Aviv University).
11. Imperialism: Mario Liverani (University of Rome).
Part III: Constructing Arguments, Understanding Perceptions: Reinhard Bernbeck and Susan Pollock.
12. Ethnoarchaeology, Analogy, and Ancient Society: Marc Verhoeven (University Museum, University of Tokyo).
13. The Ancient Sumerians in the Tides of Time: Petr Charvát (Academy of Sciences of the Czech Republic and Charles University, Prague).
14. Reliquaries on the Landscape: Mounds as Matrices of Human Cognition: Sharon Steadman (SUNY Cortland).
15. Archaeology and Texts in the Ancient Near East: Paul Zimansky (Boston University).
16. Representations, Reality, and Ideology: Jennifer Ross (Hood College).
Index
"The practices and interpretations of archaeology are political and this is nowhere more relevant today than in the Middle East. This remarkable collection investigates multiple aspects of this issue. Every student of the discipline of archaeology should read this book." –
Marc van de Mieroop, Columbia University
"Drawing on their own impressive backgrounds, Pollock and Bernbeck have assembled a diverse group of experts to explore significant issues in Middle Eastern archaeology. Avoiding conventional and outdated arguments, this volume is an important addition to the provocation Blackwell Studies in Global Archaeology series." – Sandra Scham, Editor, Near Eastern Archaeology

"In recognizing and exploring the important relationship between Middle Eastern archaeology and politics, Pollock and Bernbeck, with a notable group of contributors, open new roads of scholarship and understanding." – Hans Nissen, The Free University of Berlin


Written by some of the top archaeologists of the Middle East: scholars from diverse backgrounds with a wide range of interests and intellectual approaches

Coverage spans 100,000 years: from the Paleolithic to Hellenistic times

Explores the connections between modern-day politics and the social context of archaeological practice and various underutilized approaches to archaeological interpretation

Designed for student use

Focuses on key themes and time periods rather than offering a static overview of the history of this fascinating region