Archaeology in Practice: A Student Guide to Archaeological Analyses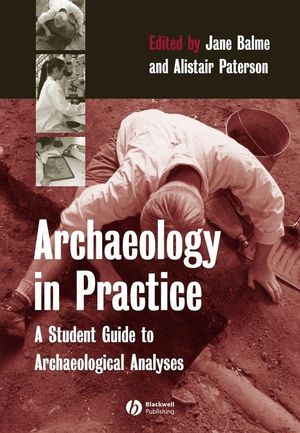 Archaeology in Practice: A Student Guide to Archaeological Analyses
ISBN: 978-1-405-14886-3 February 2009 Wiley-Blackwell 464 Pages
Description
Archaeology in Practice: A Student Guide to Archaeological Analyses offers students in archaeology laboratory courses a detailed and invaluable how-to manual of archaeological methods and provides insight into the breadth of modern archaeology.



Written by specialists of material analyses, whose expertise represents a broad geographic range

Includes numerous examples of applications of archaeological techniques

Organized by material types, such as animal bones, ceramics, stone artifacts, and documentary sources, or by themes, such as dating, ethics, and report writing

Written accessibly and amply referenced to provide readers with a guide to further resources on techniques and their applications

Enlivened by a range of boxed case studies throughout the main text
Chapter Abstracts.
Preface and Acknowledgments.
Notes on Contributors.
List of Figures.
List of Tables.
1. Finding Sites (Andrew David ).
2. Consulting Stakeholders (Larry J. Zimmerman).
3. Rock Art (Jo McDonald).
4. Stratigraphy (Jane Balme and Alistair Paterson).
5. Absolute Dating (Simon Holdaway).
6. An Introduction to Stone Artifact Analysis (Chris Clarkson and Sue O'Connor).
7. Residues and Usewear (Richard Fullagar).
8. Ceramics (Linda Ellis).
9. Animal Bones (Terry O'Connor and James Barrett).
10. Plant Remains (Wendy Beck).
11. Molluscs and Other Shells (Sandra Bowdler).
12. Sediments (Gary Huckleberry).
13. Artifacts to the Modern World (Susan Lawrence).
14. Historical Sources (Barbara Little).
15. Producing the Record (Peter White).
Index.
"This comprehensive, instructive, and user-friendly guide assembles the work of leading experts to fill a key niche in archaeological analysis. It will prove an invaluable aid to both students and teachers."
Claire Smith, President, World Archaeological Congress
"Moving beyond theoretical debates that began in the 1960s, this book shows how scientifically-grounded archaeological analysis can solve problems encountered in the field and laboratory directly and convincingly. Bravo!" Richard Gould, Brown University

"This volume ... is intended to offer students in laboratory courses in archaeology extended discussions of specific types of analytic questions and issues relating to component activities and subjects of fieldwork and data collection. This approach is a refreshing departure from the majority of the archaeological lab manuals currently in print." Choice

"Provides a useful introduction which should find a place as a textbook in courses on archaeological method, and, one might hope, on students' bookshelves - or better still, their desks." Archaeology in Oceania

"a refreshing departure from the majority of archaeological lab manual currently in print." RBM Ridinger, Northern Illinois University

"It is rare that a book is written as a text book but also provides an important contribution to the discipline and this volume deserves this dual recognition ... Overall this an excellent book and should be the handbook of every student regardless of age and level of knowledge" Australian Archaeology


Written by specialists of material analyses, whose expertise represents a broad geographic range

Includes numerous examples of applications of archaeological techniques

Organized by material types, such as animal bones, ceramics, stone artifacts, and documentary sources, or by themes, such as dating, ethics, and report writing

Written accessibly and amply referenced to provide readers with a guide to further resources on techniques and their applications

Enlivened by a range of boxed case studies throughout the main text