Architect's Essentials of Marketing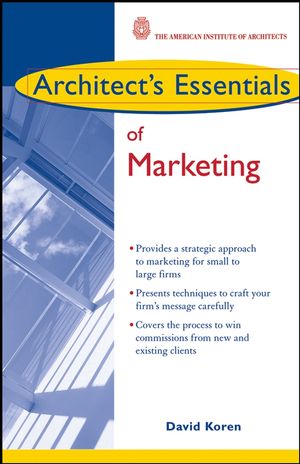 Architect's Essentials of Marketing
ISBN: 978-0-471-46364-1 September 2004 288 Pages
Description
Easy access to crucial marketing information for design professionals
Find the concise, practical business information you need right now in the Architect's Essentials of Professional Practice Series. These authoritative guides quickly make you an instant expert on the best business practices crucial for success in today's design and construction professions. Each portable, affordable, user-friendly volume gives you:
* Authoritative advice from leading national figures
* Flip-and-find access to critical business information
* Bulleted lists and callout boxes for quick reference
* Clear, insightful explanations of complex business topics
For design firms that want to take control of their marketing plans and increase business, Architect's Essentials of Marketing is the single-source guide with all the answers. Through concise, step-by-step instructions, it illuminates all aspects of creating a winning marketing strategy and covers how to leverage a variety of marketing tools and resources. Valuable, real-world guidance from an industry-leading marketing professional addresses how to manage the business development cycle to acquire clients and build your business.
Packed with field-tested tips and techniques that can be implemented right away, Architect's Essentials of Marketing is an essential go-to guide for architects, landscape architects, urban designers, and interior designers.
Acknowledgments.
Introduction: I Don't Really Have to Do This, Do I?
Part I: Marketing Strategy: Start at the Start.
1. Strategic Planning: Getting to the Starting Line.
2. Branding: We Used to Call It Reputation.
3. Positioning: Finding Your Place in Your Markets.
4. Marketing Planning: Deciding How to Communicate to Your Markets.
5. Budgeting for Marketing: Knowing What You Can Spend.
Part II: The Business Development Cycle: Getting the Job.
6. Targets and Opportunities: Finding and Pursuing Leads.
7. Brochures and Qualifications Packages: Who Are You? What Have You Done?
8. Proposals: Making an Offer.
9. Presentations: The Chemistry Test.
10. Design Competitions: High Risk and High Impact.
11. Closing the Deal: Setting the Fee, Negotiating, and Signing the Contract.
Part III: Marketing Tools and Resources: Your Arsenal of Marketing Weapons.
12. Research: Obtaining Market Intelligence.
13. Knowledge Management: Systems for Tracking Information.
14. Internal Communications: Getting the Message to Your Staff.
15. Client Communications: Newsletters, Web Sites, Direct Mail, Advertising, and Events.
16. Media Relations and Awards: Communicating with the Press.
17. Photography: Creating the Right Image.
18. Marketing Staff and Consultants: Who Can Help You?
19. Evaluating Your Performance: Is Your Marketing Working?
Bibliography.
Index.