Architect's Essentials of Negotiation, 2nd Edition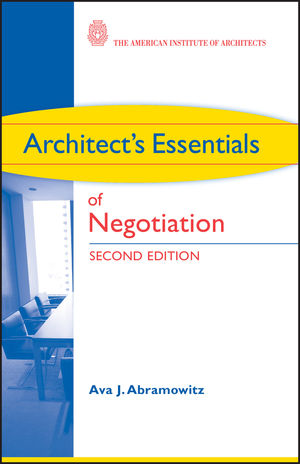 Architect's Essentials of Negotiation, 2nd Edition
ISBN: 978-0-470-42688-3
Mar 2009
384 pages
Description
""Where do you turn if you are an architect or student wanting to deepen those skill sets that will make you a more successful professional? Well, taking a look at Ava Abramowitz's new book, ""The Architect's Essentials of Negotiation"" will be a step in the right direction.""
—Robert Greenstreet, Dean, University of Wisconsin at Milwaukee School of Architecture and Urban Planning

This is an essential guide for architects and their clients and consultants who need professional advice on negotiations, from design development to agreements and fees. Contractors will want to read it, too, especially if they are involved with Integrated Project Delivery. This new edition offers updated insights related to negotiation, with references to the AIA Contract Documents, communication, collaboration, and handling disputes, change, and claims.
Introduction.
AWord from an Owner.
A Word from an Architect.
A Word from a Construction Lawyer.
1 Why You Want to Read This Book.
How to Use This Book.
2 Front-End Alignment.
The Study.
How to Use Front-End Alignment in Practice.
3 The Purpose of Contracts.
The Difference between Contracts and Torts.
How Liable Are You?
The Purpose of Design and Construction Contracts.
Managing Risk.
4 Power and Leverage: How to Get It and Keep It.
Negotiation: What Is It?
Why Architects Fear Negotiation.
Two Ways to Negotiate: Hard and Soft.
Another Way of Negotiating: Principled.
How to Negotiate on the Merits.
There You Have It: Principled Negotiation.
5 Preparation Tips.
Who Prepares More?
Negotiating Fees.
Fees as Grease: An Operational Theory.
Defining Your Value.
Making the Pie Bigger.
When "You're Too Expensive".
Ava's Preparation Cheat Sheet.
6 The Communication Behaviors of Expert Negotiators.
The Three Classes of Communication Behaviors.
Whom Do You Trust? Who Trusts You?
What Expert Negotiators Don't Do.
7 Collaboration and Team Building.
Types of Meetings.
How to Make Meetings Work.
8 How to Say Yes, How to Say No.
Ava's Rules of Contract Interpretation.
Applying the Rules.
Putting the Rules to Work.
9 When the Best Laid Plans . . .
When a Rift Is Brewing: Recognizing Disputes.
When the Air Thickens: Handling Confrontations.
When a Change Is Looming: Managing Change.
When a Claim Is in the Offing: Managing Claims.
When a Lawsuit Is Pending: Negotiating Disputes.
10 Pulling It All Together.
One Final Story.
Appendix.
Building a Support System.
On Selecting Your Lawyer.
A Word to My Legal Colleagues.
If You Want to Learn More.
Final Thoughts.
Index.
"Supposedly architects don't need negotiating skills along with other communication skills because great design "sells itself". How lovely that an AIA legal counsel created this definitive book to shatter that thin myth. I'll assert that only a critically-positioned outsider to the profession could have written a book with this valuable slant. If you're involved in any way in architectural education, be subversive and recommend this book as the first assigned reading for entering students. This is what the world – of architecture and everything else – needs now." (Norman Weinstein, ArchNewsNow, June 5, 2009)