Architect's Essentials of Starting, Assessing and Transitioning a Design Firm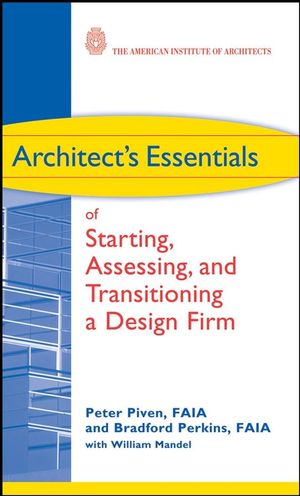 Architect's Essentials of Starting, Assessing and Transitioning a Design Firm
ISBN: 978-0-470-26106-4
Mar 2008
464 pages
Description
Written by two leading experts in the field this essential volume offers a step-by-step guide to understanding and evaluating the goals, risks and the rewards of starting a firm.
Covers the basics of firm organisation, personnel requirements, legal considerations, fee setting, marketing issues and the essentials of strategic and business plans
Addresses how to get started including how to create your first business plan, evaluate initial needs and costs, create a budget and a produce a list of action items to get started
This volume is practical, applied, concise, portable, affordable and user-friendly
Introduction.
PART 1: STARTING A DESIGN FIRM.
Introduction.
Deciding to "Go on Your Own".
Marketing and Sales.
Financial Management.
Negotiating Fees and Contracts.
Organization and Personnel.
Legal and Ethical Issues.
Resources and Support.
Strategic and Business Plans.
Planning for Excellences.
Potential Cuases of Failure.
Launching your Firm.
Appendix A. Study Guide.
Appendix B. Charting Your Course.
PART 2: OWNERSHIP TRANSITION.
Introduction.
Ownership Transition Options.
Determining Candidate Selection Criteria and Communicating Founders? Expectations.
Valuing the Firm: How Much is it Worth?
Making the Purchase Affordable: Ownership Transfer Mechanisms.
Design the Ownership Transition Program.
Getting the Ownership Transition Program Started.
Documenting the Ownership Transition Program.
Choosing the Form of Entity.
Developing Leadership in the Firm.
Preparing for Future Transition.
Glossary.
Bibliography.