Architect's Essentials of Winning Proposals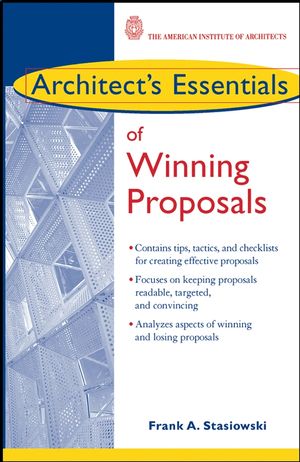 Architect's Essentials of Winning Proposals
ISBN: 978-0-471-45044-3 October 2003 224 Pages
Description
The Architect's Essentials of Professional Practice Series provides substantive information on the business of architecture and its affiliated professions to maintain and improve the quality of the professional and business environment.

Architects and designers are usually required to prepare and submit proposals in order to secure new business and the success of these proposals has a direct impact on the success or failure of any given firm.
Architectural firms spend an average of £'000s preparing proposals. This guide offers full coverage of how to create a proposal that will get the job
Looks at how to personalise proposals as well as effectively targetting it to maximise success rates
Preface.
PART I: PROPOSAL PLANNING.
What's So Special About Writing a Proposal?
Setting the Stage for Winning Proposals: Marketing.
Setting the Stage for Winning Proposals: How Much Should You Spend?
Setting the Stage for Winning Proposals: Types of Proposals.
To Bid or Not to Bid? The Go/No-Go Decision.
Your Proposal Strategy.
Your Proposal Plan, Your Team, and the Process.
PART II: PROPOSAL ELEMENTS.
Up Front: Cover Letter, Table of Contents, Executive Summary.
Résumés.
Scope of Services and Approach.
Schedule, Budget, and Fee.
Related Experience.
Additonal Materials: SF 254/255 Forms, Appendix; and Management Proposal.
PART III: PROPOSAL DEVELOPMENT.
Giving Your Proposal Finesse: Writing and Graphics.
The Red Team Review.
It's Ready, Now What?
PART IV: PROPOSAL PRESENTATION.
Your Presentation Team. 
Your Presentation Contents.
Visuals.
Preparing and Rehearsing.
Afterwards.
Index.