Architectural Building Codes: A Graphic Reference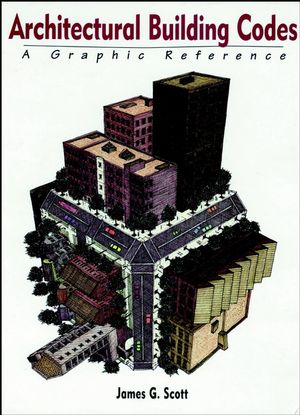 Architectural Building Codes: A Graphic Reference
ISBN: 978-0-471-28655-4 July 1997 496 Pages
Description
Architectural Building Codes by James G. Scott All architects musthave a solid working knowledge of building codes. Noncompliancemeans facing strained schedules and budgets at best, and lawsuitsat worst. Yet until now, no resource has been available toprofessionals that demystifies architectural building codes instraightforward, easy-to-understand language, with a unique graphicpresentation. James G. Scott's Architectural Building Codes slicesthrough the technical, legal, and bureaucratic jargon of buildingcodes with a direct, engaging style. Beginning with the assumptionthat building codes are by nature complex and difficult tounderstand, Mr. Scott provides both the theoretical principles andpractical grounding all architectural professionals need toefficiently incorporate code regulations into their designs. Theauthor bridges the gap between theory and application, turning thearcane, impenetrable rules of building codes into usable concepts.The material is cogently organized from general to specific ideas,leading the reader on a logical progression through the maze ofcode regulation. Comprehensive in scope, this book covers buildingcodes with a refreshingly broad perspective. Architectural BuildingCodes is a complete user's guide that covers a wide range oftopics, including:
* accessibility standards and the Americans with DisabilitiesAct
* fire-resistant materials
* building limitations
* means of egress
* roofing, interior finishes, floor and wall coverings
* occupancy
* building materials
* plumbing and mechanical codes
* elevators
An outstanding graphic presentation featuring striking pen-and-inkdrawings illuminates technical concepts and regulations. TheAppendix provides a list of practical addresses that guides thereader to other useful resources. Architectural Building Codes is aone-of-a-kind reference and resource for architecture students aswell as professionals responsible for code compliance. Buildingmanagers and owners who require both practical information and abroad grasp of code issues will find this book an indispensableguide.
Table of contents
Codes, Standards, and Other Regulations.

Administration.

Use of Occupancy.

Special Occupancy.

General Building Limitations.

Type of Construction.

Fire-Resistant Materials and Construction.

Interior Finishes.

Fire Protection Systems.

Means of Egress.

Accessibility for Individuals with Disabilities and the Americanswith Disabilities Act.

Interior Environment.

Energy Conservation.

Exterior Wall Coverings.

Roofs and Roof Structures.

Structural Loads, Tests, and Inspections.

Foundations and Retaining Walls.

Building Materials.

Elevators and Conveying Systems.

Plumbing and Mechanical.

Conclusion.

Appendix.

Bibliography.

Index.