Architectural Conservation in Europe and the Americas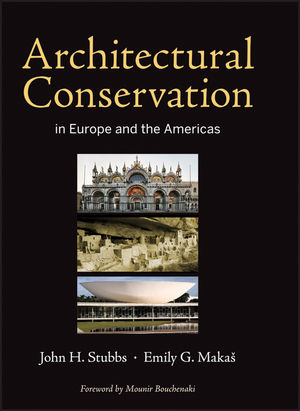 Architectural Conservation in Europe and the Americas
ISBN: 978-0-470-60385-7
Apr 2011
512 pages
Description
"From such well-known and long-vexed sites as the Athenian Acropolis to more contemporary locales like the Space Age Modernist capital city of Brasília, the conflicting and not always neatly resolvable forces that bear upon preservation are addressed as clearly and thoughtfully as the general reader could hope for."—New York Review of Books

 "…an astonishing feat of research, compilation and synthesis."—Context

The book delivers the first major survey concerning the conservation of cultural heritage in both Europe and the Americas. Architectural Conservation in Europe and the Americas serves as a convenient resource for professionals, students, and anyone interested in the field. Following the acclaimed Time Honored, this book presents contemporary practice on a country-by-country and region-by-region basis, facilitating comparative analysis of similarities and differences. The book stresses solutions in architectural heritage protection and the contexts in which they were developed.
Foreword.
Preface.
Being Modern: The Currency of Conservation (Frank Matero).
Acknowledgements.
Part I. Europe.
Introduction.
Section 1. Western Europe.
Chapter 1: Italy.
Chapter 2: France.
Chapter 3: United Kingdom.
Chapter 4: Ireland.
Chapter 5: Spain and Portugal.
Chapter 6: Belgium, Luxembourg and the Netherlands.
Chapter 7: Switzerland and Liechtenstein.
Section 2. Northern Europe.
Chapter 8: Sweden.
Chapter 9: Finland.
Chapter 10: Norway.
Chapter 11: Denmark, Iceland and Greenland.
Chapter 12: The Baltic States.
Section 3. Central Europe.
Chapter 13: Germany.
Chapter 14: Austria.
Chapter 15: Hungary.
Chapter 16: Czech Republic and Solvakia.
Chapter 17: Poland.
Section 4. Eastern Europe and the Caucasus.
Chapter 18: Russia.
Chapter 19: Ukraine, Moldova and Belarus.
Chapter 20: The Caucasus.
Section 5. Southeastern Europe.
Chapter 21: Greece.
Chapter 22: Turkey.
Chapter 23: Cyprus and Malta.
Chapter 24: The Former Yugoslavia.
Chapter 25: Albania.
Chapter 26: Bulgaria.
Chapter 27: Romania.
Part II. The Americas.
Introduction.
Section 6. North America. 
Chapter 28: The United States.
Chapter 29: Canada.
Section 7. Mexico, The Caribbean and Central America.
Chapter 30: Mexico.
Chapter 31: The Caribbean.
Chapter 32: Central America.
Section 8. South America.
Chapter 33: The Non-Iberian Coast.
Chapter 34: Brazil.
Chapter 35: The Andean Countries.
Chapter 36: The Southern Cone.
Looking Ahead.
Further Reading on Architectural Conservation by Region.
Photo Credits.
Index.