Architecture For Dummies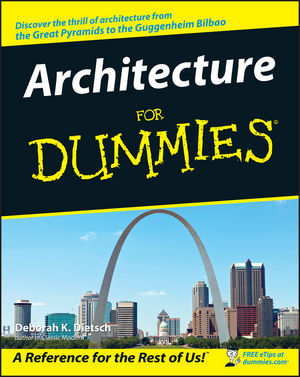 Architecture For Dummies
ISBN: 978-1-118-06966-0 May 2011 336 Pages
Description
When is a building just a building and when is it art? This accessible guide cuts through the jargon and clearly explains the essentials of architecture, demystifying the incredible ways in which structures and spaces come alive. You'll gain a real appreciation for architecture and the confidence to talk about it—even to an architect.
Just the essential information for readers on the go who want to understand architecture.
Covers the highlights of architectural history, from the Great Pyramids to Frank Gehry's Guggenheim museum in Bilbao.
Explains how to look at a building and appreciate it. Explains when a building's a building and when it's art.
Part of Tens includes Ten Great Architectural Masterpieces, Ten Biggest Architectural and Engineering Failures, Ten of the Most Interesting Architects Working Today, and more.
Foreword.
Introduction.
Part I: Knowing and Appreciating Architecture.
Chapter 1: Knowing When a Building Is Just a Building and When It's Architecture.
Chapter 2: How to Look at a Building.
Chapter 3: Building Your Architectural Vocabulary.
Part II: Nuts and Bolts: Looking at How Architecture Is Designed and Built.
Chapter 4: How Buildings Are Born.
Chapter 5: Just What Do Architects Do, Anyway?
Chapter 6: A Simple Structure: How Buildings Stand Up.
Part III: Western Architecture: A Survey of the Most Important Structures.
Chapter 7: Gimme Shelter: Prehistoric Structures and the Ancient World.
Chapter 8: Acropolis Now: Classical Greece and Rome.
Chapter 9: Domes, Arches, and Vaults, Oh My: Byzantine and Medieval Architecture.
Chapter 10: Beauty Meets Mathematics and Drama: From Renaissance to Rococo.
Chapter 11: Revivals Everywhere: The Classical and Gothic Are New Again.
Chapter 12: Here Comes the Industrial Age: Prefab Is Here to Stay.
Chapter 13: Flying High and Close to the Sun: Skyscrapers!
Chapter 14: Mother Nature versus the Machines: Modern Styles.
Chapter 15: The Only Constant Is Change: From Modern Purism to Postmodern Pluralism.
Part IV: Eastern Architecture: A Survey of the Most Important Structures.
Chapter 16: China and Japan: Traditions in Wood.
Chapter 17: More Than the Taj Mahal: Architecture in India.
Chapter 18: The Islamic World.
Part V: Arranging the Present and Saving the Past.
Chapter 19: Understanding Urban Design.
Chapter 20: Historic Preservation: Saving the Past for the Future.
Part VI: The Part of Tens.
Chapter 21: The Ten Most Fascinating Architects Working Today.
Chapter 22: Ten Architectural Masterpieces.
Chapter 23: Ten Amazing Items of Trivia That'll Impress All Your Friends!
Chapter 24: The Top Ten Skyscrapers.
Index.