Architecture and Beauty: Conversations with Architects about a Troubled Relationship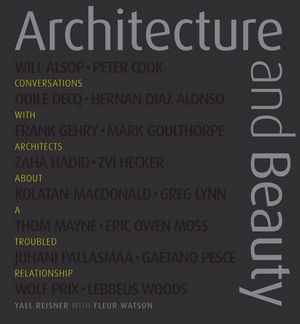 Architecture and Beauty: Conversations with Architects about a Troubled Relationship
ISBN: 978-0-470-99784-0
May 2010
264 pages
Description
Beauty provides the dynamic catalyst for sixteen very charged and individual discussions about architecture and design. Based on a series of interviews by Yael Reisner, Architecture and Beauty has been developed into sixteen individual chapter/portraits, written up by Fleur Watson, that eloquently recount the thoughts of some of the world's most creative designers. Each interviewee candidly expresses their beliefs and experiences and espouses their own distinctive position on aesthetics. Offering up rare and often highly personal insights into the minds of today's most progressive and high-profile architects, the book is lusciously illustrated with the works that the architects discuss.

Featured architects: Will Alsop, Hernan Diaz Alonso, Peter Cook, Odile Decq, Frank Gehry, Zaha Hadid, Zvi Hecker, Mark Goulthorpe, Kolatan/MacDonald Studio, Greg Lynn, Tom Mayne, Juhani Pallasmaa, Gaetano Pesce, Eric Owen Moss, Wolf Prix and Lebbeus Woods.
Dedication.
Acknowledgements.
Genesis of a Troubled Relationship.
Frank O Gehry.
Zvi Hecker.
Peter Cook.
Juhani Pallasmaa.
Lebbeus Woods.
Gaetano Pesce.
Wolf D Prix.
Thom Mayne.
Eric Owen Moss.
Will Aslop.
Zaha Hadid.
Odile Decq.
Mark Goulthorpe.
Greg Lynn.
Kol/Mac.
Hernan Diaz Alonso.
Suggested Reading.
Index.
Picture Credits.