Architextiles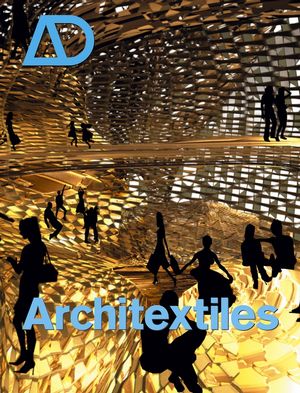 Architextiles
ISBN: 978-0-470-02634-2
Jan 2007
136 pages
Description
Focusing on the intersections between textiles and architectural design, this title communicates the full range of possibilities for a multidisciplinary design hybrid. It examines the generative concepts, forms, patterns, materials, processes, technologies and practices that are driving this cross-fertilisation in contemporary urban and architectural design. Architextiles represent a transition stage in the reorientation of spatial design towards a more networked, dynamic, interactive, communicative and multifunctional state. The paradigms of fashion and textile design, with their unique, accelerated aesthetics and ability to embody a burgeoning, composite and complex range of properties such as lightness, flow, flexibility, surface, complexity and movement have a natural affinity with architecture's shifts towards a more liquid state. The preoccupation with textiles in architecture challenges traditional perceptions and practices in interior, architectural, urban, textile and fashion design. Interweaving new designs and speculative projects for the future, Architextiles, brings together architects, designers, engineers, technologists, theorists and materials researchers to unravel these new methodologies of fabricating space.    

Contributors include:

Dominique Perrault (DPA)

Lars Spuybroek (NOX and University of Atlanta)

Will Alsop (RCA and SMC Alsop)

Nigel Coates (RCA and Branson Coates Architecture)

Matilda McQuaid (Cooper Hewitt Museum)

Ron Arad (RCA and Ron Arad Associates)

Tristan Simmonds, Daniel Bosia and Martin Self (Arup Advanced Geometry Unit)

David Wakefield (Tensys)

Dagmar Richter (UCLA)

Peter Testa and Devyn Weiser (Columbia University and Testa Architecture)

Tom Verebes, Yosuke Obuchi and Theodore Spyropoulos (AA_DRL)

Robert Kronenburg (University of Liverpool)

Anne Toomey (RCA)

Bradley Quinn

Marie O' Mahoney

Mark Garcia (RCA)
Editorial (
Helen Castle
).
Introduction: Architecture + Textiles = Architextiles (Mark Garcia).
Prologue for a History and Theory of Architextiles (Mark Garcia).
National Museum of Textile Costume, Doha, Qatar (Kathryn Findlay).
Textiles in Architecture (Bradley Quinn).
The Straw House and Quilted Office, 9–10 Stock Orchard Street, Islington, London (Jeremy Till and Sarah Wigglesworth).
Impending Landscapes of the Architextile City: An Interview with Dominique Perrault (Mark Garcia).
Blood Sense Tower, Deptford, London (Sally Quinn).
'Otherworldliness': The Pull of Black Velvet, Latex, Tights, Quilts, Tablecloths and Frocks: An Interview with Will Alsop (Mark Garcia).
Extreme Networks (Peter Testa and Devyn Weiser).
Skin/Weave/Pattern (Nigel Coates).
Holon Design Museum, Israel (Ron Arad).
Lister Mills, Bradford (David Morley and Danielle Tinero).
Textile Tectonics: An Interview with Lars Spuybroek (Maria Ludovica Tramontin).
Thomas More Council Estate, London: A re- Fabricated Picturesque Landscape (Charlie de Bono).
The Big Air World: From 'Cotton' to 'Air' (Dr VA Watson).
Camouflage as Aesthetic Sustainability (Dagmar Richter).
The Great Veil of the Central Axis (Massimiliano Fuksas).
Parametric Matter (Yusuke Obuchi, Theodore Spyropoulos and Tom Verebes).
The Notion of the Membrane and the Aesthetics of Trans-Textuality (Sonia Sarkissian).
Fabric Architecture and Flexible Design (Robert Kronenburg).
Architextiles: Royal College of Art Departments of Architecture and Textiles (Anne Toomey).
Woven Surface and Form (Tristan Simmonds, Martin Self and Daniel Bosia).
Cutty Sark, Greenwich, London (Christopher Nash).
Nirah, Bedford, UK (Jolyon Brewis).
Tambabox, Tambacounda, Senegal (Iván Juárez and Patricia Meneses).
Tensile Structure Design: An Engineer's Perspective (David Wakefield).
Y-Knots, Mile End and the Lower Lee Valley, East London (Mark Garcia and Jonathan Goslan).
An Embellishment: Purdah (Jane Rendell).
Tectonics and Textiles (Matilda McQuaid).
Textiles for 21st-Century Living (Marie O'Mahony).
Tate in Space (Opher Elia-Shaul and Danielle Tinero).
Bio-Tissue Hotel (Stefanie Surjo).
Interior Eye: The Hotel of Reflections (Howard Watson).
Building Profile: National Waterfront Museum, Swansea (Jeremy Melvin).
Practice Profile: Sauerbruch Hutton (Jayne Merkel).
Home Run: Project Units 2b and 2c, Nuovo Portello, Milan (Valentina Croci)
McLean's Nuggets (Will McLean).
Site Lines: Fiat Tagliero Service Station (Edward Denison).
"Architextiles AD was conceived and designed by the RCA's deputy head of textiles and Architextiles project leader Anne Toomey and Mark Garcia, academic co-ordinator in architecture. With 32 contributors from around the world, Architextiles AD features commissioned essays, design projects and interviews by senior RCA staff." (
Design Week
, December 2006)
"In a successful mix, the magazine offers topical debates…that may inspire textile engineers and designers to greater efforts " (Textile Forum, March 2007)
 "The pictures are fabulous and fascinating…they grab the interest and imagination…I would recommend this publication and the series." (Building Engineer, May 2007)