Aristotelian Philosophy: Ethics and Politics from Aristotle to MacIntyre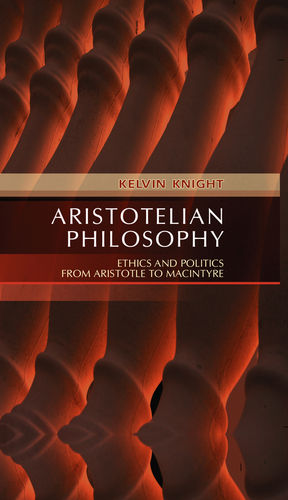 Aristotelian Philosophy: Ethics and Politics from Aristotle to MacIntyre
ISBN: 978-0-745-63821-8 May 2013 Polity 256 Pages
Download Product Flyer
Download Product Flyer
Download Product Flyer is to download PDF in new tab. This is a dummy description. Download Product Flyer is to download PDF in new tab. This is a dummy description. Download Product Flyer is to download PDF in new tab. This is a dummy description. Download Product Flyer is to download PDF in new tab. This is a dummy description.
Description
Aristotle is the most influential philosopher of practice, and Knight's new book explores the continuing importance of Aristotelian philosophy. First, it examines the theoretical bases of what Aristotle said about ethical, political and productive activity. It then traces ideas of practice through such figures as St Paul, Luther, Hegel, Heidegger and recent Aristotelian philosophers, and evaluates Alasdair MacIntyre's contribution. Knight argues that, whereas Aristotle's own thought legitimated oppression, MacIntyre's revision of Aristotelianism separates ethical excellence from social elitism and justifies resistance.
With MacIntyre, Aristotelianism becomes revolutionary. MacIntyre's case for the Thomistic Aristotelian tradition originates in his attempt to elaborate a Marxist ethics informed by analytic philosophy. He analyses social practices in teleological terms, opposing them to capitalist institutions and arguing for the cooperative defence of our moral agency. In condensing these ideas, Knight advances a theoretical argument for the reformation of Aristotelianism and an ethical argument for social change.
Table of contents
Acknowledgements vi
Introduction 1
1 Aristotle's Theoretical and Practical Philosophy 4
2 Christian Practice and Medieval Philosophy 41
3 Aristotle in Germany 64
4 A Revolutionary Aristotelianism 102
MacIntyre's Marxism 104
'Aristotelianism' 124
Social Ethics 144
Politics 167
Aristotelianism's Reformation 189
Conclusion 222
References 226
Index 244
Reviews
"Kelvin Knight has done so much more to situate my thought historically, and to relate it to the philosophical and political thought of others, not only than I have ever done, but than I would ever have been able to do."
Alasdair MacIntyre in Analyse & Kritik
"A clear, judicious history of Aristotelianism in Western thought in order to explain the development of Alasdair MacIntyre's thought. The book is exceptionally well organized, and the analyses of the different interpreters of Aristotle - especially MacIntyre - are intelligently concise and probing. Highly recommended [for] upper-division undergraduates, graduate students and researchers/faculty."
Charles E. Butterworth, Choice
"A very fine piece of scholarship ... [It] will be regularly used for teaching at postgraduate level."
Peter McMylor, (author of Alasdair MacIntyre: Critic of Modernity) writing in Philosophy of Management
"Well-structured and tightly packed without being impenetrable, it should prove vital to contemporary work on Aristotelianism and MacIntyre and more generally useful to advanced students of political theory."
Journal of Moral Philosophy
"Just as we can be grateful to MacIntyre for his revitalization of Aristotle in the present day, so too can we be grateful to Knight for a lucid and valuable account of MacIntyre's own thought. His book helps to clarify MacIntyre's philosophical lineage and in particular to re-assert the continued importance of his early Marxism. In so doing, it helps to make the case for "revolutionary Aristotelianism" as not the oxymoron it might initially appear, but rather a powerful contemporary alternative to both conservatism and liberal democracy."
Notre Dame Philosophical Reviews
"At times highly technical due to its depth and nuance of complex concepts, Aristotelian Philosophy is a welcome addition to college library and philosophical studies shelves."
Midwest Book Review
"Writing with passion and on the basis of deep knowledge of the evolution of MacIntyre?s thought, Knight argues convincingly that he effects an anti-elitist reformation of Aristotelian philosophy."
Political Studies Review
"Kelvin Knight puts his readers greatly in debt for this masterful and erudite study of the history of Aristotelian philosophy, with particular emphasis on MacIntyre's place in that history. Notwithstanding his disclaimers in the conclusion, Knight has in fact produced a clear account of 'the conceptual subtleties and political implications' of MacIntyre's Aristotelianism elsewhere unmatched."
Bruce Ballard, author of Understanding MacIntyre
"Philosophically and historically informed, but written in an engaging and readable style, the book presents a stimulating and often distinctive account of key phases in the development of Aristotelian thought, culminating in an extended and sympathetic discussion of the work of Alasdair MacIntyre. Knight's account of MacIntyre's political philosophy is the best that I know of."
John Horton, University of Keele
"This is an impressive intellectual history, both with respect to its account of the various receptions and transformations of Aristotelian practical philosophy generally and with respect to its account of the development and character of Alasdair MacIntyre's own distinctive Aristotelianism. With respect to the former: Aristotelianism is not a monolithic tradition, and Knight does a masterful job in pulling apart the Aristotelianisms that are elitist from those that are anti-elitist and in pulling apart those Aristotelianisms that are conservative from those that are revolutionary. With respect to the latter: MacIntyre's views are widely caricatured by shallow writers, and we have been much in need of an account of those views that shows just how radical and anti-elitist MacIntyre's Aristotelianism is; Knight's book fulfils this need with great thoroughness and skill."
Mark Murphy, Georgetown University
Features


Kelvin Knight is one of the foremost theorists writing on the work of Alasdair MacIntyre and this work constitutes a major reworking of MacIntrye's philosophy.

This new and ground breaking work examines Aristotle's theories as well as practical philosophy to rediscover the revolutionary in Aristotle

The book advances a theoretical argument for the reformation of Aristotelianism and an ethical argument for social change.

A genuinely original and insightful book into the work of MacIntyre and practical philosophy.

There are currently no books out there which offer the level of interpretive detail or historical context that Knight's book offers on MacIntyre's work.