Aromatherapy For Dummies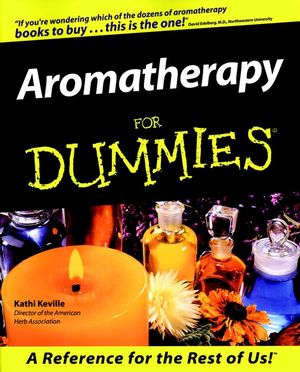 Aromatherapy For Dummies
ISBN: 978-0-764-55171-0 September 1999 384 Pages
Download Product Flyer
Download Product Flyer
Download Product Flyer is to download PDF in new tab. This is a dummy description. Download Product Flyer is to download PDF in new tab. This is a dummy description. Download Product Flyer is to download PDF in new tab. This is a dummy description. Download Product Flyer is to download PDF in new tab. This is a dummy description.
Description
Whether it's the tang of ozone in the air just before a rainstorm, the homey smell of freshly baked bread, or the inspiring scent of roses, natural aromas are everywhere with us, influencing our moods, and informing our perceptions. But natural aromas are capable of much more. Science is just beginning to reveal how aromas affect our bodies as well as our spirits, and what once seemed far-fetched–that you can treat many common ailments with nothing more than a pleasing smell–is now being taken seriously by many in the medical community. Yes, you can smell your way to good health, and now
Aromatherapy For Dummies
shows you how.
This down-to-earth guide takes the mystery out of essential oils and other aromatherapy tools, and shows you how pleasing scents can cure what ails you and enhance your life at home and at work. Among other things, you'll discover how to:
Safely and easily treat hundreds of common ailments
Increase f ocus and concentration
Relieve tension and relax
Improve athletic performance
Enhance romance
Sniff out the right essential oils
Create fragrant essences in your kitchen
Under the expert guidance of one of America's leading botanical experts, you'll bring the wonders of aromatherapy into your own life. Kathy Keville provides clear, concise, scientifically informed explanations of how plant essences can support body, mind, and spirit. She offers common sense advice on everything from therapeutics and cosmetics to the recreational uses of essential oils. And she supplies:
Easy-to-follow instructions on how to select genuine aromatherapy products
Symptom Guide–simple and easy remedies for 60 common conditions, listed alphabetically by symptom
Aroma Guide–an A-to-Z guide of fragrant plants used in aromatherapy
More than a hundred recipes for everything from oily skin to indigestion that you can whip up at home in five minutes
The world is full of natural fragrances that can help you feel better, work smarter, play harder, and relax. It's time to get well with the healing power of smell, and now Aromatherapy For Dummies shows you how.
Table of contents
Introduction.
PART I: Aromatherapy Essentials.
Chapter 1: Making Sense Out of Scents.
Chapter 2: Sniffing the Diff: What to Look for in a Scent.
Chapter 3: On the Scented Trail: Shopping and Storing.
Chapter 4: Surrounding Yourself with Scents.
Chapter 5: Aromatherapy Alchemy: Making Your Own Scents.
PART II: "Inscentives" for Living: Aromatherapy in Your Life.
Chapter 6: Aromatherapy to De-Bug Your Home and Garden.
Chapter 7: Mirror, Mirror on the Wall: Aromatherapy for Us All.
Chapter 8: Aromatherapy in the Bedroom.
Chapter 9: Aromatherapy on the Job: The Sweet Smell of Success.
Chapter 10: Aromatherapy at the Gym.
Chapter 11: Getting Well with Smell.
PART III: The Part of Tens.
Chapter 12: Ten Ways to Add Fragrance to Your Life.
Chapter 13: Ten Herbs to Grow for Fragrance.
PART IV: The Guides.
Symptom Guide.
Aroma.
PART V: The Appendix.
Appendix: Aromatherapy Resources.
Index.
Book Registration Information.