Aromaticity and Other Conjugation Effects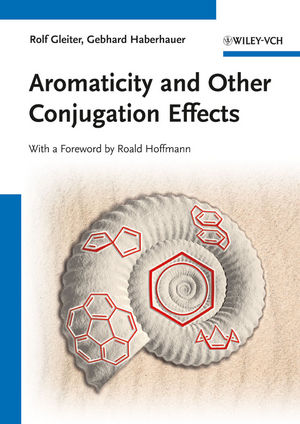 Aromaticity and Other Conjugation Effects
ISBN: 978-3-527-32934-2 September 2012 466 Pages
Description
The authors provide an excellent overview of conjugation effects in organic chemistry within and between Pi systems. Besides various
aspects of aromaticity one finds detailed discussions of homo-, spiroand hyperconjugation as well as effects of through-space and throughbond interactions. These effects are presented on the basis of experimental results and are analyzed by the use of qualitative arguments of perturbation theory and from a comparison with results from high level ab initio calculations.

This book is a must-have for bachelor students from the second year on, master and PhD students of chemistry. Also students in science
such as physics, biology and medicine will benefit from the concepts described in the book. Furthermore, chemists in research and development will be grateful to find here an overview of conjugation effects allowing to understand the structures, the dynamics and the reactivity of molecules.

CONJUGATED pi-SYSTEMS
Linear Conjugated Polyenes
Conjugated Oligoalkynes
Conjugated Planar Monocyclic Systems
Aromaticity Criteria
Structures of Monocyclic (4n)pi and (4n+2)pi Annulenes
Conjugated Polycyclic Planar pi Electron Systems
Substituent Effects
Conjugation in Two and Three Dimensions

THROUGH-SPACE INTERACTION BETWEEN pi SYSTEMS
Homoconjugation
Transannular Effects
Homoaromatic Systems
Spiroconjugation

DONOR-ACCEPTOR INTERACTIONS BETWEEN PLANAR ARENES
Donor-Acceptor Complexes
Structures of Benzene and Related Aromatics in the Solid State
Interactions Between Molecules of Opposite Electric Quadrupole Moments
Model Studies to Measure the Strength of Non-Covalent Interactions Between pi Systems in Organic Solvents
Model Calculations on pi-pi Interactions
Applications and Consequences of pi-pi Interactions of Arenes in Chemistry

THROUGH-BOND INTERACTION BETWEEN pi SYSTEMS AND NON-BONDING ELECTRON PAIRS OF HETEROATOMS
Theoretical Models
Dehydroaromatics
Through-Bond Interaction Between Non-Conjugated pi Systems
Rationalization of Intramolecular Reactivity by Through-Bond Coupling

HYPERCONJUGATIVE INTERACTIONS
Concept of the Two-Electron/Two-Orbital Interactions
Definition and Manifestation on Ground State Properties
Positive Hyperconjugation (sigma-p, sigma-pi* and sigma-sigma* Interactions)
Negative Hyperconjugation (n-sigma* and pi-sigma* Interactions)

THEORETICAL METHODS
Quantum Chemical Calculation Methods -
An Overview
Orbital Interactions
Spectroscopic Methods for Detecting Conjugation Effects

APPENDIX
Character Tables for Selected Symmetry Groups
Basic Equations for Nuclear Magnetic Shielding in Molecules
Energy Conversion Table and Abbreviations