Arrested Development and Philosophy: They've Made a Huge Mistake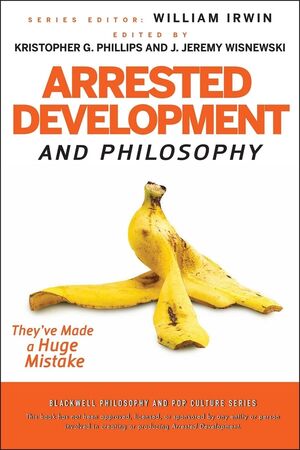 Arrested Development and Philosophy: They've Made a Huge Mistake
ISBN: 978-0-470-57559-8 December 2011 272 Pages
Description
A smart philosophical look at the cult hit television show, Arrested Development
Arrested Development earned six Emmy awards, a Golden Globe award, critical acclaim, and a loyal cult following—and then it was canceled. Fortunately, this book steps into the void left by the show's premature demise by exploring the fascinating philosophical issues at the heart of the quirky Bluths and their comic exploits. Whether it's reflecting on Gob's self-deception or digging into Tobias's double entendres, you'll watch your favorite scenes and episodes of the show in a whole new way.
Takes an entertaining look at the philosophical ideas and tensions in the show's plots and themes
Gives you new insights about the Bluth family and other characters: Is George Michael's crush on his cousin unnatural? Is it immoral for Lindsay to lie about stealing clothes to hide the fact that she has a job? Are the pictures really of bunkers or balls?
Lets you sound super-smart as you rattle off the names of great philosophers like Sartre and Aristotle to explain key characters and episodes of the show
Packed with thought-provoking insights, Arrested Development and Philosophy is essential reading for anyone who wants to know more about their late, lamented TV show. And it'll keep you entertained until the long-awaited Arrested Development movie finally comes out. (Whenever that is.)
ACKNOWLEDGMENTS
: And Now a Few Words from the New CEOs of the Bluth Company ix
INTRODUCTION 1
Kristopher Phillips
PART ONE FAMILY FIRST
1 Is the Examined Life a Huge Mistake?: Happiness, Self-Knowledge, and the Bluths 7
Jason Southworth and Ruth Tallman
2 Kissing Cousins: Incest, Naturalism, and the Yuck Factor 23
Deborah R. Barnbaum
3 Freudian Arrested Development 33
Tim Jung
4 Don't Know Thyself: Gob and the Wisdom of Bad Faith 46
Daniel P. Malloy
PART TWO A BUSINESS MODEL
5 Dr. Fünke's 100 Percent Natural Good-Time Alienation Solution 61
Jeff Ewing
6 Family First: How Not to Run a Business 73
Brett Gaul
7 Bourgeois Bluths: Arrested Development and Class Status 85
Rachel McKinney
PART THREE SOME HUGE MISTAKES
8 What Whitey Isn't Ready to Hear: Social Identity in Arrested Development 99
J. Jeremy Wisnewski
9 "I Just Blue Myself": The Use and Abuse of Language in Arrested Development 111
M. E. Verrochi
10 To Bias Tobias: Gender Identity, Sexuality, and Arrested Development 123
Darci Doll
11 I'm Oscar.com: The Problem(s) of Personal Identity in Arrested Development 136
Kristopher Phillips
PART FOUR THE ONE WHERE THEY DO EPISTEMOLOGY
12 You Can't Do Magic: Gob Bluth and the Illusionists' Craft 151
Michael Cholbi
13 Is Justified True Bluth Belief Knowledge? 162
Brett Coppenger and Kristopher Phillips
14 Bunkers and Balls: Arrested Development, Underdetermination, and the Theory-ladenness of Observation 172
Michael Da Silva
PART FIVE SOLID AS IRAQ: POLITICS AND ETHICS ARRESTED
15 No Touching! George Sr.'s Brush with Treason 185
Douglas Paletta and Paul Franco
16 "I've Made a Huge Mistake": George Oscar Bluth Jr. and the Role of Error in Character Development 197
Christopher C. Kirby, Jonathan Hillard, and Mathew Holmes
17 The Comedy of Contradiction 210
Erin Fay and Willie Young
PARTS IX: AND ON THE EPILOGUE . . .
18 And Now the Story of a Wealthy Family Who Lost Everything: Arrested Development, Narrative, and How We Find Meaning 227
Tyler Shores
CONTRIBUTORS: Banana Stand Employee Roster 241
INDEX: Banana Stand Inventory 247