Arsenic Contamination of Groundwater: Mechanism, Analysis, and Remediation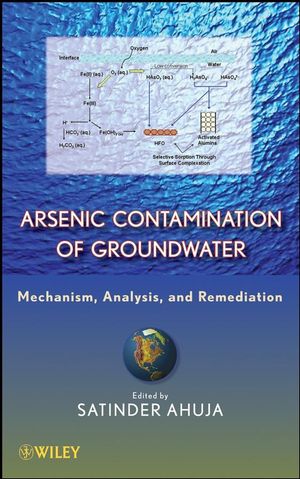 Arsenic Contamination of Groundwater: Mechanism, Analysis, and Remediation
ISBN: 978-0-470-36926-5 October 2008 418 Pages
Description
Provides a viable reference, describing the state-of-knowledge on sources of arsenic contamination in ground water, which affects about 100 million people worldwide.
With contributions from world-renowned experts in the field, this book explores developments in the transport kinetics, detection, measurement, seasonal cycling, accumulation, geochemistry, removal, and toxicology of arsenic.
Includes compelling case studies describing how arsenic contamination occurs and the devastating effects on the people and environment affected by it.
Contributors.
Preface.
1. Problems and Solutions of Arsenic Contamination of Groundwater (Satinder Ahuja).
2. Fate of Arsenic in Irrigation Water and its Potential Impact on the Food Chain (S.M. Imamul Huq).
3. Microbial Controls on the Geochemical Behavior of Arsenic in Groundwater Systems (Farhana S. Islam).
4. Molecular Detection of Dissimilatory Arsenate-Respiring Bacteria in North Carolina Groundwater (Holly Oates and Bongkeun Song).
5. Biogeochemical Mechanisms of Arsenic Mobilization and Sequestration (Kate M. Campbell and Janet G. Hering).
6. Geomicrobiology of Iron and Arsenic in Anoxic Sediments (Carolina Reyes, Jonathan R. Lloyd, and Chad W. Saltikov).
7. Development of Measurement Technologies for the Low-Cost, Reliable, Rapid, On-Site Determination of Arsenic Compounds in Water (Julian F. Tyson).
8. Field Test Kits for Arsenic: Evaluation in Terms of Sensitivity, Reliability, Applicability, and Cost (Jörg Feldmann and Pascal Salaün).
9. Mucilage of Opuntia ficus-indica for Use as a Flocculant of Suspended Particulates and Arsenic (Kevin A. Young, Thomas Pichler, Alessandro Anzalone, and Norma Alcantar).
10. Prediction of Arsenic Removal by Adsorptive Media: Comparison of Field and Laboratory Studies (Malcolm Siegel Alicia Aragon, Hongting Zhao, Shuguang Deng, Melody Nocon, and Malynda Aragon).
11. Arsenic Remediation of Bangladesh Drinking Water Using Iron Oxide–Coated Coal Ash (Ashok Gadgil, Lara Gundel, and Christina Galitsky).
12. Development of a Simple Arsenic Filter for Groundwater of Bangladesh Based on a Composite Iron Matrix (Abul Hussam and Abul K.M. Munir).
13. Community-Based Well-Head Arsenic Removal Units in Remote Villages of West Bengal, India (Sudipta Sarkar, Anirban Gupta, Lee M. Blaney, J. E. Greenleaf, Debabrata Ghosh, Ranjan K. Biswas, and Arup K. SenGupta).
14. Water Supply Technologies for Arsenic Mitigation (M. Feroze Ahmed).
15. Solutions of Arsenic Contamination of Groundwater (Satinder Ahuja).
Index.
?It is a core reference source.? (APADE, 2009)