Arthropod-borne Infectious Diseases of the Dog and Cat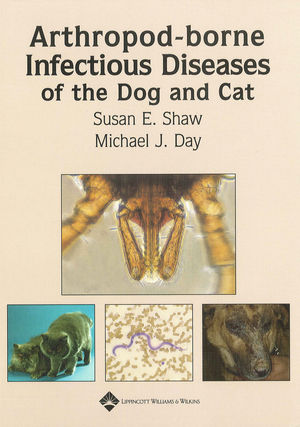 Arthropod-borne Infectious Diseases of the Dog and Cat
ISBN: 978-0-781-79014-7
Jan 1991, Wiley-Blackwell
152 pages
Description
In recent years there has been growing international focus on the importance of emerging and re-emerging arthropod-borne diseases in both human and veterinary medicine. Increasingly these diseases are being diagnosed and treated in veterinary practice.


In this book the authors first discuss the overall significance of this group of diseases, plus arthropod biology and immunology, and current laboratory diagnostic methods, followed by individual chapters on each disease entity, grouped by causative organism (protozoan, bacterial, viral). Each chapter covers background etiology and epidemiology, including the role of wildlife species and zoonotic effects, pathogenesis, clinical signs, diagnosis and treatment. The book is illustrated throughout in color and contains photographs of clinical cases, hematology, cytology and gross microscopic pathology.


The book aims to provide, in a single reference source, an accessible guide to arthropod-borne infectious disease for veterinarians in practice and training.
Introduction 9
1 Arthropod vectors of infectious disease: biology and control 11
2 The role of wildlife and wildlife reservoirs in the maintenance of arthropod-borne infections 23
3 Interaction of the host immune system with arthropods and arthropod-borne infectious agents 30
4 Laboratory diagnosis of arthropod-transmitted infections 41
5 Filarial infections 51
6 Babesiosis and cytauxzoonosis 63
7 Hepatozoonosis 72
8 Leishmaniosis 89
9 Borreliosis 100
10 Bartonellosis 110
11 Ehrlichiosis and anaplasmosis 120
12 Rickettsial infections 134
13 Other arthropod-borne infections of dogs and cats 138