Asian American Studies After Critical Mass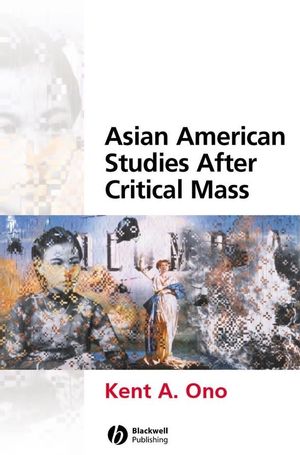 Asian American Studies After Critical Mass
ISBN: 978-1-405-14680-7 April 2008 Wiley-Blackwell 224 Pages
Description
Asian American Studies After Critical Massis a dynamic collection that showcases the most exciting scholarship in the field from a critical and cultural studies perspective. Comprised of ten original essays written by a group of scholars at the vanguard of the discipline, this collection takes on a range of topics and concerns, including Asian American film and popular culture; Asian Americans at the dawn of the twenty-first century; globalization and transnational citizenship; and queer Asian America. Addressing some of the most exciting issues and ideas in Asian American studies, this book strikes a bold new path for the field.





This book can be used in conjunction with the Blackwell Companion to Asian American Studies.
Notes on Contributors.
Acknowledgments.
Asian American Studies in Its Second Phase: Kent A. Ono (University of Illinois, Urbana-Champaign).
PART I: Representations.
1 What is the Political? American Culture and the Example of Viet Nam: Viet Nguyen (University of Southern California).
2 Ethnography, the Cinematic Apparatus, and Asian American Film Studies: Peter Feng (University of Delaware).
3 Culinary Fictions: Immigrant Foodways and Race in Indian American Literature: Anita Mannur (Wesleyan University).
PART II: Identities.
4 Foregrounding Native Nationalisms: A Critique of Anti-Nationalist Sentiment in Asian American Studies: Candace Fujikane (University of Hawaii).
5 A World Make-Over? An Asian American Queer Critique: Martin Manalansan IV (University of Illinois, Urbana-Champaign).
6 Asian American Studies Through (Somewhat) Asian Eyes: Integrating "Mixed Race" into the Asian American Discourse: Cynthia Nakashima (University of California at Berkeley).
PART III: Disciplines and Methodologies.
7 Asian American Studies and the "Pacific Question": J. Kehaulani Kauanui (Wesleyan University).
8 Planet Youth: Asian American Youth Cultures, Citizenship, and Globalization: Sunaina Maira (University of California, Davis).
9 The Problematics of History and Location of Filipino American Studies within Asian American Studies: Helen Toribio (San Francisco State University).
10 Rethinking Asian American Victimhood: Understanding the Complexity of Race and Citizenship in America: Taro Iwata (University of Illinois, Urbana-Champaign).
Index
"A stimulating set of essays from a new generation of Asian American Studies scholars. The collection opens new questions for the field and suggests important theoretical possibilities." David Palumbo-Liu, Stanford University


Contains ten original essays pointing to new directions in Asian American Studies

Contributors are drawn from an expert group of international scholars

Includes coverage of film, popular culture, globalization, citizenship, and queer studies

Features a useful introduction by the editor reviewing the origins of the subject, and outlines future possibilities for the field

Can be used alongside A Companion to Asian American Studies, edited by Kent A. Ono, for a complete reference to Asian American Studies.