Asian Economic Journal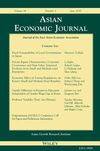 Asian Economic Journal
Vol 32(4 Issues in 2018 )
Print ISSN: 1351-3958
Online ISSN: 1467-8381
Impact Factor: .444
Digital version available through Wiley Online Library
Description
The Asian Economic Journal provides detailed coverage of a wide range of topics in economics relating to East Asia, including investigation of current research, international comparisons and country studies. It is a forum for debate amongst theorists, practitioners and researchers and publishes high-quality theoretical, empirical and policy-oriented contributions.
The Asian Economic Journal strives to facilitate the exchange of information among researchers on a worldwide basis and offers a unique opportunity for economists to keep abreast of research on economics pertaining to East Asia. For those with an interest in Asian Studies, this kind of vital information makes the Asian Economic Journal an essential resource.
The Asian Economic Journal is published on behalf of the East Asian Economic Association .