Asian Immigration to the United States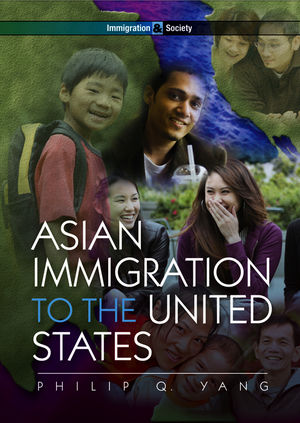 Asian Immigration to the United States
ISBN: 978-0-745-64503-2 May 2011 Polity 192 Pages
Description
This comprehensive book offers a unique and much needed examination of Asian immigration to the United States, focusing on three central questions: What causes Asian immigration to the United States? How do post-1965 Asian immigrants impact American society? How do new Asian immigrants and their children adapt to American life?
This is the first book that systematically delves into post-1965 Asian immigration to the United States and covers a wide range of issues, such as immigration causes and trends; settlement and adaptation patterns; types of immigrants; immigrant transnationalism; undocumented immigration; and the demographic, racial/ethnic, economic, sociocultural, and political impacts of Asian immigration. Importantly, the author develops a novel synthetic theory for explaining Asian immigration and demonstrates support for it in both historical and contemporary contexts. The book also provides a vast amount of the latest generalizable quantitative data on Asian immigration.
Combining rigorous scholarship with engaging readability, Asian Immigration to the United States will be an invaluable text for college and graduate students of immigration, Asian American studies, and race and ethnicity, as well as an excellent reference book for scholars and policymakers.
Table of contents
Preface.
1. Introduction.
2. A Theory of Asian Immigration.
3. Pre-1965 Asian Immigration.
4. Post-1965 Asian Immigration.
5. Impacts of Asian Immigration on U.S. Society.
6. Adaptation of Asian Immigrants and Their Children.
7. Conclusion Notes.
References.
Reviews
"
Asian Immigration to the United States
is the first social science book that provides a very comprehensive and systematic examination of Asian immigration, especially since 1965, using theories, secondary sources, and empirical data. It is well balanced in theory and empirical data, is easy to read, and is an ideal textbook for undergraduate and graduate Asian American courses."
Pyong Gap Min, Queens College and the Graduate Center of the City University of New York
"The content of this book is rich and balanced from a sociological perspective with a unique Asian American studies sensitivity. Professor Yang is an expert in the area of international migration and Asian immigration to the United States. His formal training in demography and methodology adds empirical sophistication and analytical rigor to existing literature on Asian immigration and immigrants."
Min Zhou, University of California, Los Angeles
"Yang's Asian Immigration to the United States is a very fluid and accessible study. It is structurally sound and complete, and will be a very useful reference for researchers, students, policy-makers, and anyone who is interested in Asian immigration."
Huping Ling, Truman State University
Features
An overview of Asian immigration to the US with solid theoretical grounding and illuminating empirical analyses
The book is unique in its up-to-date and comprehensive focus on immigration rather than more general issues related to Asian Americans
Addresses theoretical frameworks for studying Asian immigration, historical developments, immigrant adaptation, and effects on US society
The volume is written from a rich sociological perspective with a unique Asian American Studies sensitivity, reflecting the author's expertise