Asian Media Studies: Politics of Subjectivities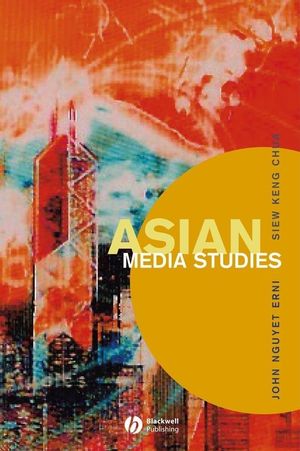 Asian Media Studies: Politics of Subjectivities
ISBN: 978-0-631-23499-9 October 2004 Wiley-Blackwell 272 Pages
Description
This groundbreaking collection of original essays provides new perspectives in Asian media studies. The volume covers a diverse range of topics from media policy to globalization, using lively examples from various countries and media.
Notes on Contributors.
Acknowledgments.
1. Introduction: Our Asian Media Studies? (John Nguyet Erni, City University of Hong Kong and Siew Keng Chua, Nanyang Technological University).
Part I: Moving In, Moving Out: Transnational Flows.
2. Discrepant Intimacy: Popular Culture Flows In East Asia (Koichi Iwabuchi, International Christian University).
3. Hook 'em Young: Mcadvertising And Kids In Singapore (Siew Keng Chua, Nanyang Technological University and Afshan Junaid, Nanyang Technological University).
4. Techno-Orientalization: The Asian VCD Experience (Kelly Hu, National Chung Cheng University).
Part II: Moving Backward, Moving Forward: Histories And Politics.
5. The Struggle For Press Freedom And Emergence Of "Un-Elected" Media Power (Myungkoo Kang, Seoul National University).
6. "Forward-Looking" News?: Singapore's News 5 and the Marginalization of the Dissenting Voice (Sue Abel, University Of Auckland).
7. Beyond the Fragments: Reflecting On "Communicational" Cultural Studies in South Korea (Keehyeung Lee, Yonsei University).
8. Re-Advertising Hong Kong: Nostalgia Industry and Popular History (Eric Kit-Wai Ma, Chinese University Of Hong Kong).
Part III: Moving Between: Formations Of Audiences And Subjectivities.
9. The Whole World is Watching Us: Music Television Audiences in India (Vamsee Juluri, University Of San Francisco).
10. From Variety Show To Body-Sculpting Commercials: Figures Of Audience and the Sexualization of Women/Girls (Irene Fang-Chih Yang, National Dong Hwa University).
11. Recuperating Malay Custom/Adat In Female Sexuality in Malaysian Films (Gaik Cheng Khoo, Asia Research Institute).
12. The Formation of a Queer Imagined Community in Post-Martial Law Taiwan (John Nguyet Erni and Anthony Spires, Yale University).
Index.
"With the publication of this volume, cultural studies begins to speak with a multiplicity of Asian accents, marking an excellent step towards meaningful and contrapuntal dialogues with those who have Anglo-American accents in the era of globalization."
--
Chin-Chuan Lee, City University of Hong Kong
"This book represents a coming of age of critical media studies in Asia, and about Asia. Written by Asian authors who are attuned to the hegemonic power of both Western media and Western paradigms of media studies, this collection of essays outlays the complex landscape of Asian media scholarship in one of the most dynamic regions in the world today. What we find is that there are many Asias, shaped by the intersections of power and subordination, pessimism and optimism, hope and despair."
--Ien Ang, University of Western Sydney

"The mediascapes of Asia are among the most dynamic and exciting in the world right now, and the most politically vital. This absorbing collection does much more than explore the profound changes occurring in the region as transnational media flows intensify, different modes of historical and political consciousness form, and new subjective realities take shape. In doing all this with acuity and flair, it revitalizes media studies."
--Meaghan Morris, Lingnan University
Outlines the new critical perspectives in media studies in and about Asia within the current debates about globalization.


Covers the key areas of research in Asian media studies, from textual reading, through policy studies, to audience/reception studies.

Features engaging examples, including Singapore TV news and advertising, Hong Kong nostalgia, sexuality in Malaysian film, VCD technology, and queer communities in Taiwan.

Explores media globalization in Singapore, Malaysia, India, Hong Kong, China, and Japan.

Contributors are from a younger generation of Asian-born scholars of different backgrounds (indigenous, subaltern, diasporic, and others), who make up the "second wave" of critical Asian media studies.