Ask and You Shall Receive: A Fundraising Training Program for Religious Organizations and Projects Set, Participant Manual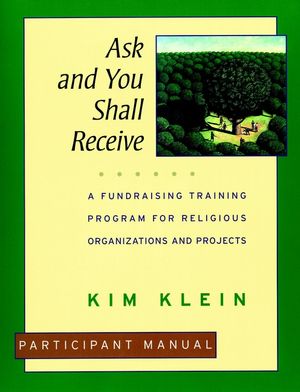 Ask and You Shall Receive: A Fundraising Training Program for Religious Organizations and Projects Set, Participant Manual
ISBN: 978-0-787-95130-6
Aug 2000, Jossey-Bass
176 pages
Description
Fundraising expert Kim Klein has trained thousands of groups and individuals to cultivate assets that make good works possible. The Ask and You Shall Receive training package is a do-it-yourself, start-to-finish program on jumpstarting fundraising efforts. A peer-led program designed for use with its companion Participant Manual, the Ask and You Shall Receive Leader Manual walks you through the most common fundraising scenarios with dependable information, methods, prompts, and preparation guidelines. Realistic time allowances keep the training within reach of busy volunteers.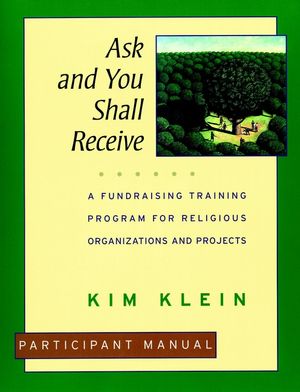 Original Price:$55.00
Purchased Together:$23.00
save $32.00
Introduction: Who Is This Book For?

How to Use This Guide: Notes for Participants.

FUNDRAISING BASICS.

Who Gives, and Why?

What Do You Think About Money?

What You Need Before You Begin Raising Money.

Completing the Case Statement.

The Role of Volunteers in Fundraising.

CHOOSING THE APPROPRIATE STRATEGY.

Overview of Fundraising Strategies and Their Uses.

Special Events.

The Wide World of Mail.

The Direct Mail Package.

Judicious Use of the Telephone.

Planning Major Gifts Campaigns.

CREATING A FUNDRAISING PLAN.

Approaching Prospects for a Major Gift.

Creating a Budget.

Putting It All Together in a Fundraising Plan.

Bibliography.

About the Author.
"Ask and You Shall Receive is hands-on, practical, spiritual, and speaks to all of us who are committed to promoting a progressive religious voice. As a Jew, I particularly appreciate the range of examples and the commitment to ecumenism." --Marjorie Fine, cochair, Interfaith Funders Network

"Good works rely on good work, and Kim Klein's careful guidance in building support for good works really helps us in the religious community do the work we intend to do." --The Reverend Hugh Wire, fundraising consultant, and board chair for fundraising, Seeds of Learning.