Aspects of Mind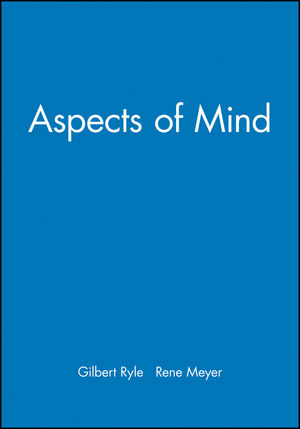 Aspects of Mind
ISBN: 978-0-631-18489-8
Mar 1993, Wiley-Blackwell
248 pages
Description
Aspects of Mind contains previously unpublished manuscript material by Gilbert Ryle along with notes taken by the editor, Rene Meyer, at lectures given by Ryle on the philosophy of mind in 1964.

Gilbert Ryle, Waynflete Professor of Metaphysical Philosophy at the University of Oxford from 1945 until 1967, had a decisive influence on contemporary philosophy. His Concept of Mind (1949) not only put a methodological edge in a most readable way to what has become known as Analytical Philosophy, but it also stimulated interest in the philosophy of mind as a pivotal part of philosophy as a whole. A second important influence derives from his reorganization of philosophical studies at Oxford after the war which made it, for several years, one of the liveliest philosophical centres in the world. Ryle's interest covered almost the entire field of philosophy. He also made substantial contributions to the history of philosophy, notably on Plato, Locke, Hume, Husserl and Heidegger. Gilbert Ryle died in October 1976.

The book also includes two tributes to Ryle; one from John Mabbott, a close friend, on Ryle the man, and one from David Gallop, an ex-student, on Ryle the Philosopher. A chapter entitled "Philosophy, Logical Geography and Dilemmas" by Rene Meyer provides a perspective on Ryle's philosophy.
Preface.
Introduction.
1. The Ryle Collection.
2. Philosophy, Logical Geography and Dilemmas.
Part I: Papers by Ryle:.
3. Is Induction a Sort of Inference?.
4. A Note on Induction.
5. Deductive and Inductive Thinking.
6. Our Thinking and our Thoughts.
7. Reason.
8. The Meno.
9. Logical and Ontological Talk in Wittgenstein's Tractatus.
10. Paper Read to the Oxford Philosophical Society 500th Meeting.
Part II: Meyer's Notes on Ryle Lectures:.
11. Introduction to Philosophy.
12. Thinking.
13. Privacy.
Part III: Tributes:.
14. Tribute: by J. D. Mabbott.
15. Gilbert Ryle: Some Reflections and Recollections by David Gallop.
Select Bibliography.
Index.
"In this book Ryle exerts all his energy in showing how the problems relating to the abstract philosophic concepts of the past are converted into problems relating to the different uses of various terms in both linguistic and behavioural contexts ... Ryle does very well in dissecting so-called private experiences and showing that much of them are indeed describable in public language terms." Jack Kaminsky, Reviews
Contains previously unpublished material by Gilbert Ryle
Includes tributes from John Mabbott, a close friend of Gilbert Ryle, on Ryle the man and from David Gallop, an ex-student, on Ryle the Philosopher.