Assessing Civic Engagement: New Directions for Institutional Research, Number 162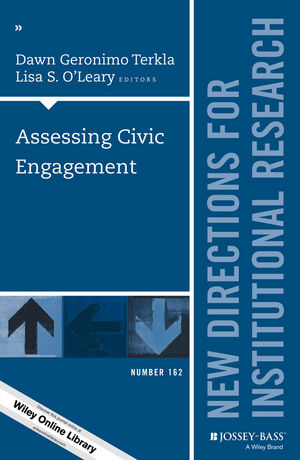 Assessing Civic Engagement: New Directions for Institutional Research, Number 162
ISBN: 978-1-119-06505-0 January 2015 Jossey-Bass 112 Pages
Description
How does one assess community service, civic engagement, and the impact of service learning on a college campus? This volume reviews contemporary research, measurement instruments, and practices in the assessment of civic engagement in higher education, including:
meta-analyses of students, faculty, institutions, and higher education systems at-large,
targeted case studies of campus-specific practices at individual institutions,
efficient and effective ways to gauge the influence of civic engagement on higher education policy, practices, and outcomes, and
quantitative and qualitative approaches to measuring the effort, importance of, and impact of students' and institutions' involvement in community service, community engagement, civic engagement, and service learning on a college campus.
The research ranges between decisions made either as part of institutional agendas, curricular enhancements, or student life initiatives and student and professor involvement in civic engagement activities and supportive attitudes.   
This is the 162nd volume of this Jossey-Bass quarterly report series. Timely and comprehensive, New Directions for Institutional Research provides planners and administrators in all types of academic institutions with guidelines in such areas as resource coordination, information analysis, program evaluation, and institutional management.
Table of contents
EDITORS' NOTES 1
Dawn Geronimo Terkla, Lisa S. O'Leary
1. Analysis of the Carnegie Classification of Community Engagement: Patterns and Impact on Institutions 3
Amy Driscoll
This chapter describes the impact that selected implementation of the revised Carnegie Classification for Community Engagement had on the institutions of higher learning that applied for the classification.
2. Frequent Participation in Service Learning: Examining Institutional Differences and Individual Benefits 17
Daniel A. Bureau, James S. Cole, Alexander C. McCormick
This chapter explores the differences between institutions with high levels of involvement in service learning and low levels of involvement as well as the differences between students with high and low levels of involvement.
3. Do College Youth Serve Others? How and Under Which Circumstances? Implications for Promoting Community Service 29
James Griffith, Todd Thomas
This chapter provides information on estimates of the occurrence and persistence of community service, types of community service performed, and variables associated with performing such services.
4. The Impact of the Campus Culture on Students' Civic Activities, Values, and Beliefs 43
Meredith S. Billings, Dawn Geronimo Terkla
This chapter explores a model that quantitatively measures the impact of the campus environment on civic engagement outcomes.
5. Civic Engagement in College Students: Connections Between Involvement and Attitudes 55
Lisa S. O'Leary
This chapter describes how canonical correlation was used in conjunction with an item response theory model to address the relationship between college students' civic engagement involvement and attitudes as undergraduates.
6. Creating an Organizational Framework for Assessment of Student Engagement 67
Paul B. Duby, Charles F. Ganzert, David L. Bonsall
This chapter describes a case study of one institution's effort to institutionalize a process through which student development is promoted through active engagement with the community.
7. Alternative Spring Break at the Savannah College of Art and Design: Engaging Art and Design Students in Community Service 77
J. Joseph Hoey, Jeffrey A. Feld-Gore
This chapter describes the impact of an alternative spring break program on students at the Savannah College of Art and Design over a set of years as well as its effectiveness as a service-learning tool.
8. Assessing Civic Engagement at Indiana University–Purdue University Indianapolis 87
Gary R. Pike, Robert G. Bringle, Julie A. Hatcher
This chapter describes how several tools were developed by faculty and staff at Indiana University–Purdue University, Indianapolis, to assess campus civic engagement initiatives.
INDEX 99