Assessing and Improving Your Teaching: Strategies and Rubrics for Faculty Growth and Student Learning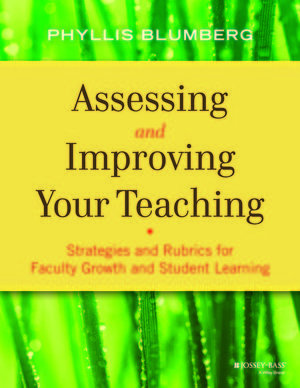 Assessing and Improving Your Teaching: Strategies and Rubrics for Faculty Growth and Student Learning
ISBN: 978-1-118-42134-5
Sep 2013, Jossey-Bass
352 pages
Description
In order to make appropriate changes to improve your teaching and your students' learning, first you need to know how you're teaching now. Figure it out for yourself and invigorate your teaching on your own terms!

This practical evidence-based guide promotes excellence in teaching and improved student learning through self-reflection and self-assessment of one's teaching. Phyllis Blumberg starts by reviewing the current approaches to instructor evaluation and describes their inadequacies. She then presents a new model of assessing teaching that builds upon a broader base of evidence and sources of support. This new model leads to self-assessment rubrics, which are available for download, and the book will guide you in how to use them. The book includes case studies of completed critical reflection rubrics from a variety of disciplines, including the performing and visual arts and the hard sciences, to show how they can be used in different ways and how to explore the richness of the data you'll uncover.
Preface ix
The Author xiii
1 Growing Your Teaching Effectiveness: An Overview 1
PART 1 A TEACHING MODEL THAT PROMOTES BETTER LEARNING 15
2 Beliefs Leading to Better Teaching 15
3 Essential Aspects of Effective Teaching 29
4 Documenting Critical Self-Refl ection of Teaching 49
5 Evidence-Based Approaches to Enhance Teaching 65
6 Finding and Using Literature to Promote Better Teaching 83
PART 2 A MODEL TO ASSESS TEACHING TO PROMOTE BETTER LEARNING 97
7 Principles of Assessing Teaching 97
8 Model for Assessing Teaching 115
PART 3 SELFƪASSESSMENT RUBRICS 129
9 How to Assess Teaching Using Rubrics Based on the
Assessment Model 129
10 What These Rubrics Assess, and How That Improves Teaching 153
CASES SHOWING EFFECTIVE USES FOR THE RUBRICS 171
Introduction 171
1 How a Beginning Assistant Professor Used Rubrics to Plan and Track Her Personal Faculty Development 175
2 How a Faculty Developer Used the Rubrics with a Pretenure Instructor to Facilitate Improvement 187
3 How an Experienced Professor Used the Rubrics to Document Her Scholarship of Teaching and Learning 197
4 How a Pretenured Professor Used the Rubrics to Assess His Mentoring Undergraduate and Graduate Students in Research 207
5 How an Experienced Clinical Professor Used the Rubrics to Assess His Changed Roles While Precepting or Supervising Students in Hospital Settings 217
Comparisons among the Cases 229
References 233
Appendix: Rubrics for Self-Assessment of Teaching: Tools for Improving Different Types of Teaching 241
Index 323
Dedicated with love to my sons, Adam, Barry, and Noah Kosherick
This book includes Professional content that can be accessed from our Web site when you register at www.josseybass.com/go/Blumberg using the password josseybasshi.ghered.