Assessment and Management of Emotional and Psychosocial Reactions to Brain Damage and Aphasia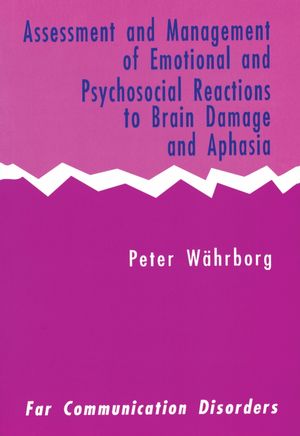 Assessment and Management of Emotional and Psychosocial Reactions to Brain Damage and Aphasia
ISBN: 978-0-470-69869-3
Apr 2008
122 pages
Description
Aims to provide an accessible and practical guide to the assessment, differentiation and clinical management of the emotional and psychosocial problems of aphasic and non-aphasic brain damaged individuals and their families. Current clinical approaches are also considered.
Preface.
Chapter 1 Introduction.
Chapter 2 Aphasia and Behaviour.
Chapter 3 Aphasia and the Family
Chapter 4 Towards a Model of Psychological Reactions to Brain Damage and Aphasia.
Chapter 5 The Assessment of Emotional and Psychosocial Disorder in Aphasic Individuals and their Families.
Chapter 6 Management and Treatment of Psycholgical and Social Problems in Aphasics and their Families.
Chapter 7 Long-Term Evolution of Psychsocial and Emotional State.
References.
Index.