Assessment in Practice: Putting Principles to Work on College Campuses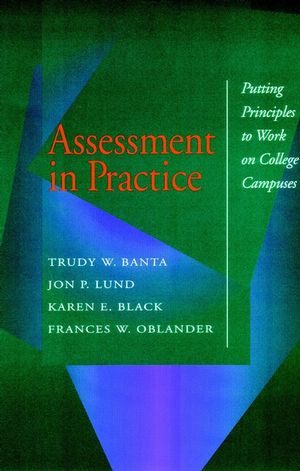 Assessment in Practice: Putting Principles to Work on College Campuses
ISBN: 978-0-787-90134-9
Oct 1995, Jossey-Bass
416 pages
Description
This book's contribution will be a very big one--and not just in size...there is no compAndium of examples like it. As such, it's invaluable. It will be very useful to those who plan and carry out assessment on campuses.


?Thomas A. Angelo, director, AAHE Assessment Forum

Brings together in one volume the best current knowledge of what assessment methods work best and how their principles should be incorporated into all effective assessment efforts?whether at institutional, program, or department levels. Drawing from 165 actual cases?and reporting 86 of them in their entirety?the authors illustrate methods and techniques of assessment covering a wide range of objectives in diverse types of institutions.
IDENTIFYING PRINCIPLES OF GOOD PRACTICE IN ASSESSMENT.

Assessment: It Starts with What Matters Most.

An Imaginative Consideration of Learning.

The Road to Success Is Paved with Goals.

It's Not Only Where They End Up, But How They Get There.

Assessment Doesn't Just Happen, It Evolves.

Involvement in Assessment: A Collaborative Endeavor.

Making Data Meaningful.

The Important Part Is What You Do With It.

The Train Is Leaving the Station.

Perhaps There Are Ten?

EXAMPLES OF EFFECTIVE ASSESSMENT PRACTICES.

Assessing Student Achievement in the Major.

Assessing Student Achievement in General Education.

Assessing Student Development and Progress.

Assessment at the Classroom Level.

Faculty Development to Promote Assessment.

Developing a Campus-Wide Approach to the Assessment.

Has Assessment Made a Difference?

Resources: A. Carnegie Classification Code Definitions B. List of Contributors.
"This book's contribution will be a very big one--and not just in size...There is no compendium of examples like it. As such, it's invaluable. It will be very useful to those who plan and carry out assessment on campuses." --Thomas A. Angelo, director, AAHE Assessment Forum