Assessment in Student Affairs: A Guide for Practitioners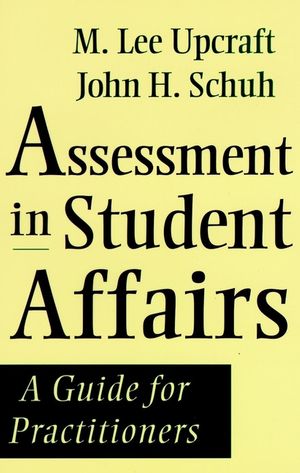 Assessment in Student Affairs: A Guide for Practitioners
ISBN: 978-0-787-90212-4
Mar 1996
400 pages
Description
For practitioners at all levels of experience, Assessment in Student Affairs provides a single-volume, practical resource on using assessment to develop and improve all facets of student affairs. It includes detailed guidance for student affairs staff on how to assess student needs, student satisfaction, campus environments, campus cultures, and student outcomes. And it explains how senior staff can employ assessment findings in strategic planning, policy development, and day-to-day decision making.
THE CONTEXT FOR ASSESSMENT IN STUDENT AFFAIRS.

Why Student Affairs Needs a Comprehensive Approach to Assessment.

Key Questions to Ask in Assessment.

Using Qualitative Methods.

Using Quantitative Methods (P. Terenzini & M. Upcraft).

DIMENSIONS OF ASSESSMENT IN STUDENT AFFAIRS.

Tracking Clients' Use of Services, Programs, and Facilities.

Assessing Student Needs.

Assessing Student Satisfaction.

Assessing Campus Environments.

Assessing Student Cultures (E. Whitt).

Assessing Program and Service Outcomes (P. Terenzini & M. Upcraft).

Benchmarking: Comparing Performance Across Organizations.

Measuring Effectiveness Against Professional Standards (T. Miller).

ASSESSMENT CHALLENGES FOR PRACTITIONERS.

Reporting and Using Assessment Results.

Maintaining High Standards of Ethics and Integrity.

Making Assessment Work: Guiding Principles and RecommAndations.
"As a guide to assessment techniques and a reference for ways to conduct them, this is a book that should be on the bookshelf in every student affairs office where assessment and evaluation occur." --NASAP Journal

"This volume is a long needed and important addition to the literature in student affairs because it provides basic information that can be used by a wide range of practitioners in the field. It is practical and demystifies the process of assessment. There is no comparable volume out there. Highly recommended." --Margaret J. Barr, Vice President for Student Affairs, Northwestern University

"If you are thinking about starting an assessment effort in student affairs, read this book first." --Gary R. Hanson, coordinator of student affairs research, University of Texas, Austin