Assisting Bereaved College Students: New Directions for Student Services, Number 121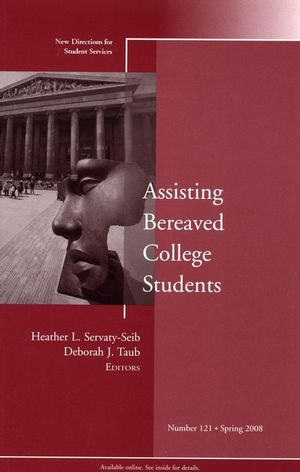 Assisting Bereaved College Students: New Directions for Student Services, Number 121
ISBN: 978-0-470-29539-7
Apr 2008, Jossey-Bass
88 pages
Description
Research indicates that rather than an isolated incident experienced by only a few college students, bereavement is a life transition or crisis faced by a significant share of the campus population at any given time. Death loss experiences and subsequent grief reactions have the strong potential to affect the functioning and overall development of bereaved students.

This sourcebook brings together perspectives from the fields of higher education and thanatology (the study of death and dying) to provide a mix of theoretical, research, and practice perspectives for coping with death and bereavement on campus.

The initial chapters move from a macro-level focus on the prevalence of bereaverment on campus to theoretical and empirical approaches for understanding how students cope with death and then to practical approaches for supporting and assisting bereaved students. The volume then explores administrative responses to death, including issues of suicide, death notification, and practical guidance in the aftermath of student death.

Death is a fact of life college students, whether they are traditional-age or adult learners, undergraduates or graduate students, full-time or part-time students, or on-campus residents or commuters. Members of the higher education community need to be ready to respond when death touches the lives of students to provide support and assistance.

Of course, institutions have unique characteristics, and the composition of student populations differs widely. The materials and guidelines presented in this volume should be considered in light of these contextual factors. With this in mind, the editors have created a sourcebook that provides useful guidance for a caring response.

Chapters include
Grieving: 22 to 30 Percent of All College Students
Developmental and Contextual Perspectives on Bereaved College Students
Lessons of Loss: Meaning-Making in Bereaved College Students
Designing and Conducting Grief Workshops for College Students
Training Faculty Members and Resident Assistants to Respond to Bereaved Students
Suicide and Its Impact on Campus
Guidelines for Death Notification in College Student Populations
Student Death Protocols: A Practitioner's Perspective
This is the 121st volume of the Jossey-Bass quarterly report series New Directions for Student Services, offering guidelines and programs for aiding students in their total development: emotional, social, physical, and intellectual.
EDITORS'NOTES (
Heather L. Servaty-Seib, Deborah J. Taub
).
1. Grieving: 22 to 30 Percent of All College Students (David E. Balk)
This chapter provides an overview of the effects of bereavement on college students.
2. Developmental and Contextual Perspectives on Bereaved College Students (Deborah J. Taub, Heather L. Servaty-Seib)
Theories of college student development and campus ecology offer helpful perspectives about bereaved students.
3. Lessons of Loss: Meaning-Making in Bereaved College Students (Robert A. Neimeyer, Anna Laurie, Tara Mehta, Heather Hardison, Joseph M. Currier)
Lessons from multifaceted research about how individuals find meaning in the wake of loss experiences are discussed.
4. Designing and Conducting Grief Workshops for College Students (Craig J. Vickio)
This chapter offers practical guidelines for conducting grief workshops on college campuses.
5. Training Faculty Members and Resident Assistants to Respond to Bereaved Students (Heather L. Servaty-Seib, Deborah J. Taub)
This chapter provides guidance for workshops on bereavement for faculty members and resident assistants who, because of their regular interactions with students, are well positioned to recognize students in difficulty.
6. Suicide and Its Impact on Campus (Heidi Levine)
Death by suicide can magnify and complicate bereavement, leaving community members struggling to sort through grief, anger, guilt, and the overwhelming feeling that they should have been able to prevent the death.
7. Guidelines for Death Notification in College Student Populations (Lou Ann Hamilton)
This chapter offers guidelines for notifying students about deaths in their families and notifying the campus community and family members about student deaths.
8. Student Death Protocols: A Practitioner's Perspective (Cheryl M. Callahan, Erin K. Fox)
This chapter provides practical guidance for responding to student deaths.
INDEX.