Asymmetric Warfare: Threat and Response in the 21st Century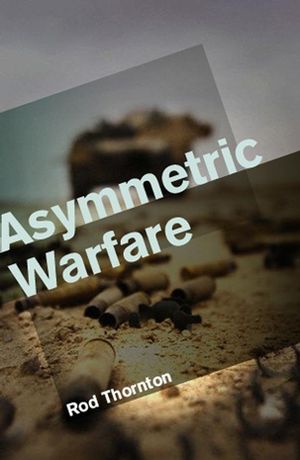 Asymmetric Warfare: Threat and Response in the 21st Century
ISBN: 978-0-745-63364-0 February 2007 Polity 256 Pages
Description
In recent years, the nature of conflict has changed. Through asymmetric warfare radical groups and weak state actors are using unexpected means to deal stunning blows to more powerful opponents in the West. From terrorism to information warfare, the Wests air power, sea power and land power are open to attack from clever, but much weaker, enemies.
In this clear and engaging introduction, Rod Thornton unpacks the meaning and significance of asymmetric warfare, in both civilian and military realms, and examines why it has become such an important subject for study. He seeks to provide answers to key questions, such as how weaker opponents apply asymmetric techniques against the Western world, and shows how the Wests military superiority can be seriously undermined by asymmetric threats. The book concludes by looking at the ways in which the US, the state most vulnerable to asymmetric attack, is attempting to cope with some new battlefield realities.

This is an indispensable guide to one of the key topics in security studies today.
Table of contents
Preface.
Acknowledgements.
1. What is Asymmetric Warfare?.
2. The Terrorist Asymmetric Adversary.
3. Asymmetry and Information Warfare.
4. Asymmetry and Air Power.
5. Asymmetry and Sea Power.
6. Asymmetry and Land Power.
7. The US Military and its Response to the Asymmetric Opponent.
8. Conclusion.
Notes.
Selected Bibliography.
Index.
Reviews
"Thornton's work is such a comprehensive study of asymmetrical warfare that it should be required reading at all the service academies in the United States and the United Kingdom as well as bed-side reading for those commanders currently in Iraq and Afghanistan."
International Affairs
"A useful primer for students of contemporary and defence affairs. Thornton provides a well-crafted rebuttal to the linear and technology-centric thinking that underlie much of the amorphous movement called 'defence transformation'. Defence officials ought to give careful consideration to Thornton's recommendations concerning how land, sea and air forces might adapt to asymmetric threats."
H.R. McMaster, Survival
"An interesting primer on asymmetric warfare ... a timely foil to the numerous authors who predict the decline of the state as it struggles to deal with various non-state threats."
Journal of Peace Research
"For nearly a decade defence services and security specialists have warned that asymmetric conflict such as terrorism and insurgency were shaping the global strategic environment rather than traditional war between states. But until Dr Thornton's book, there was no comprehensive, rigorous analysis of this phenomenon. Drawing on the experience of both the American and British militaries, Thornton's book provides invaluable context for those who must deal with asymmetric challenges or who simply seek to understand its importance and implications."
Steven Metz, US Army War College Strategic Studies Institute
"This is a clearly argued and well-documented study. It should appeal to a wide readership in universities, the armed forces, government agencies and among the general public. The author raises important issues that need to be carefully considered by policy-makers."
Fran Gregory, University of Southampton
"Anyone wishing to understand the threat posed to the West by asymmetric warfare will find this book a sobering guide. Rod Thornton demystifies asymmetric tactics and strategy, and identifies the actors and activities typically associated with them."
Alice Hill, University of Leeds
Features
An accessible student introduction to a key topic in security and conflict studies

Unpacks the meaning and significance of asymmetric warfare in both civilian and military realms

Explores how weaker opponents apply asymmetric techniques against the Western world

Concludes by looking at the ways in which the US is attempting to cope with the threat of asymmetric warfare.