At Risk in America: The Health and Health Care Needs of Vulnerable Populations in the United States, 2nd Edition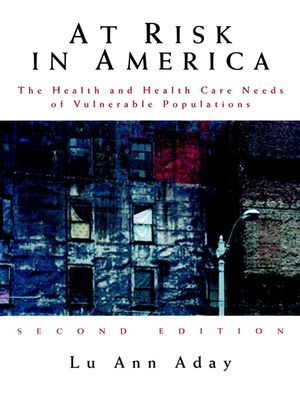 At Risk in America: The Health and Health Care Needs of Vulnerable Populations in the United States, 2nd Edition
ISBN: 978-0-470-93247-6 June 2010 Jossey-Bass 400 Pages
Description
This updated second edition of At Risk in America provides a detailed analysis of those key population groups most vulnerable to disease and injury in the United States today-including homeless persons, refugees and immigrants, people living with AIDS, alcohol and substance abusers, high-risk mothers and infants, victims of family or other violence, and the chronically or mentally ill. Lu Ann Aday reviews the major theories and knowledge concerning these at-risk groups and offers new approaches and methodologies for tracing the social determinants and societal influences on health. She examines the specific health needs and risks faced by these groups, their experience in the health care system, the current policies and programs that serve them, and the research and policy initiatives that might be undertaken to help reduce their vulnerability.
Table of contents
Foreword by Ronald M. Andersen.

Who Are the Vulnerable?

How Many Are Vulnerable?

Who Is Most Vulnerable?

Why Are They Vulnerable?

What Programs Address Their Needs?

Who Pays for Their Care?

How Good Is Their Access to Care?

How Much Does Their Care Cost?

What's the Quality of Their Care?

What Do We Still Need to Know?

What Programs and Policies Are Needed?

Resource A: National Data Sources on Vulnerable Populations.

Resource B: Source Notes on the Data Tables.

References.

Name Index.

Subject Index.
Reviews
"This updated and extended portrait of America's most vulnerablepopulations provides an extraordinary amount of importantinformation for researchers, policymakers, practitioners, andstudents. Aday reliably presents the challenges in reducing riskand improving health in the years ahead." (David Mechanic,director, Institute for Health, Health Care Policy, and AgingResearch, Rutgers University)

"As we bask in the longest economic boom in history and anunprecedented accumulation of wealth, Aday relentlessly reminds usof the dire health needs of our vulnerable populations. This newedition will be as valuable as the first was to researchers,policymakers, practitioners, and ethicists." (Mary Ruggie,professor, J. F. Kennedy School of Government, HarvardUniversity)

"Lu Ann Aday has done it again. The second edition of At Risk inAmerica will be an indispensable resource for health careproviders, public health officials, and health servicesresearchers, and it should be taken especially seriously by anyoneconcerned with health care policy in the United States." (Bruce C.Vladeck, professor of health policy and geriatrics, and director,Institute for Medicare Practice, Mount Sinai School ofMedicine)

"A useful book for health care practitioners, teachers,researchers, and students of public health. Highly Recommended."(Choice, 12/01)

"What makes Aday's contribution significant is her methodicalidentification of groups that exist in the midst of a land ofplenty, yet are not necessarily living the American dream."(Nephrology Nursing Journal, April 2002)