Athletic Scholarships For Dummies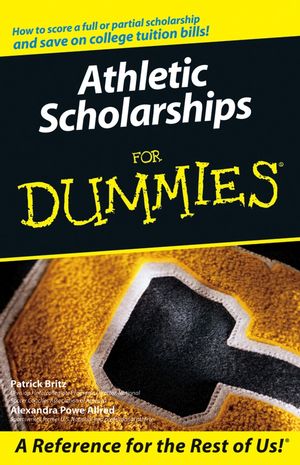 Athletic Scholarships For Dummies
ISBN: 978-0-471-92750-1
Mar 2006
336 pages
Description
Get insider tips on navigating the recruitment process

Find the right school, the right program, the right coach, and the most money

You're prepared for challenges on the athletic field. But are you prepared for the challenges of winning an athletic scholarship? Let this friendly guide be your coach. It explains what kind of scholarships are out there, how to promote yourself and deal with recruiters, and how to survive possible snags after you've won your scholarship.

Discover how to
* Get yourself noticed and recruited
* Make the most of college visits
* Negotiate a contract and make a commitment
* Understand redshirting
* Know when and how to transfer schools
Introduction.
Part I: The World of College Sports.
Chapter 1: Getting the Basics: Athletic Scholarships 101.
Chapter 2: Defining a College Athletic Scholarship.
Chapter 3: College Alphabet Soup: NCAA, NJCAA, NAIA.
Chapter 4: Clearing the Clearinghouse.
Part II: Getting Recruited.
Chapter 5: Knowing What Colleges Are Looking For.
Chapter 6: The Game Begins: Getting Noticed.
Chapter 7: The Full-Court Press: Calls, Letters, and E-Mails from Coaches.
Chapter 8: What to Do If You Don't Get Noticed.
Chapter 9: Recognizing College Recruiting Violations.
Part III: Making College Visits.
Chapter 10: The Play-by-Play of College Visits.
Chapter 11: Taking Your Turn to Recruit.
Chapter 12: Preparing for and Evaluating Each Visit.
Part IV: Committing to a School.
Chapter 13: Negotiating a Financial-Aid Agreement.
Chapter 14: Making the Verbal Commitment.
Chapter 15: Understanding the National Letter of Intent.
Part V: When You're in the Big Leagues: For Existing College Students.
Chapter 16: Maintaining Your Eligibility.
Chapter 17: Redshirting.
Chapter 18: Transferring.
Part VI: The Part of Tens.
Chapter 19: Ten Things Not to Do during the Recruiting Process.
Chapter 20: Ten Considerations When Choosing a School.
Appendix A: College Scholarship Web Sites and Resources.
Appendix B: Resources for College Recruiting and Selecting Colleges and Coaches.
Index.