Atlas of Small Animal CT and MRI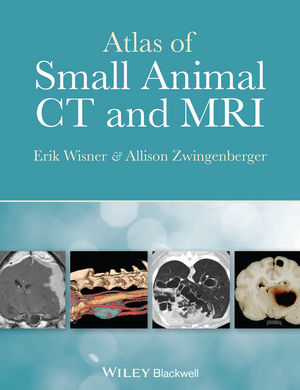 Atlas of Small Animal CT and MRI
ISBN: 978-1-118-44612-6 March 2015 Wiley-Blackwell 704 Pages
Description
Atlas of Small Animal CT & MRI is a highly illustrated diagnostic imaging guide to common clinical disorders of dogs and cats.


Contains over 3,000 high quality CT, MRI and related diagnostic images
Offers a unique approach emphasizing comparative imaging and pathologic correlation
Focuses on important imaging features relevant to imaging diagnosis of disease in dogs and cats
Written by internationally renowned experts in the field
Preface vi
How to use this atlas vii
Abbreviations viii
Section 1: Head & Neck 1
1.1 Nasal cavity and paranasal sinuses 3
1.2 Ear 27
1.3 Temporomandibular joint 40
1.4 Skull 55
1.5 Orbit 69
1.6 Globe 86
1.7 Salivary glands 98
1.8 Lymph nodes 107
1.9 Oral cavity 113
1.10 Larynx, pharynx, and neck 132
1.11 Thyroid and parathyroid 141
Section 2: Brain 153
2.1 Ventricular system and hydrocephalus 155
2.2 Brain edema 162
2.3 Developmental disorders 165
2.4 Trauma, hemorrhage, and vascular disorders 173
2.5 Metabolic, toxic, and degenerative disorders 184
2.6 Noninfectious inflammatory disorders 197
2.7 Infectious inflammatory disorders 206
2.8 Neoplasia 221
2.9 Sella and parasellar region 244
2.10 Cranial nerves 264
Section 3: Vertebral Column & Spinal Cord 279
3.1 Developmental disorders 281
3.2 Traumatic and vascular disorders 295
3.3 Inflammatory disorders 317
3.4 Neoplasia 329
3.5 Intervertebral disk disease and other degenerative disorders 355
3.6 Brachial and lumbosacral plexus 376
Section 4: Thorax 387
4.1 Thoracic wall and diaphragm 389
4.2 Pleural space 398
4.3 Mediastinum and esophagus 408
4.4 Heart, pulmonary vasculature, and great vessels 423
4.5 Airways 442
4.6 Small airways and parenchyma 458
Section 5: Abdomen 489
5.1 Body wall, retroperitoneum, and peritoneal cavity 491
5.2 Hepatovascular disorders 504
5.3 Hepatobiliary disorders 522
5.4 Gastrointestinal tract 538
5.5 Pancreas 551
5.6 Adrenal gland 561
5.7 Spleen 572
5.8 Urinary tract 584
5.9 Reproductive tract 604
Section 6: Musculoskeletal System 615
6.1 Developmental and metabolic disorders 617
6.2 Trauma 636
6.3 Inflammatory disorders 652
6.4 Neoplasia 662
6.5 Degenerative disorders 675
Index 681
"This 693 page atlas offers numerous pictures of various clinical situations, assisting the clinician in his diagnosis and subsequently therapeutic decision making. A beautiful and very useful book!!" (Vet Nurses Today, 1 October 2015)
"The authors of the first edition of the Atlas of Small Animal CT and MRIhave put together an excellent reference tool." (Journal of the American Veterinary Medical Association, 15 September 2015)
"...the Atlas of Small Animal CT and MRI should be a useful, comprehensive, single-source resource for specialists and specialists in training as well as anyone else interested in imaging. The atlas provides an overview of important anatomy, physiology and pathophysiology of anatomic regions to complement numerous quality patient-based examples demonstrating CT and MRI imaging characteristics of normal and diseased structures in common clinical disorders. I will keep this atlas close at hand for quick reference to help with differentials in my clinical cases."
Kari L. Anderson
, DVM, Diplomate ACVR
Professor and Section Chief, Medical Imaging
Veterinary Clinical Sciences Department
University of Minnesota, College of Veterinary Medicine
"The picture material and image quality that illustrate the textbook are outstanding, and this is what makes this book so special. Each figure in the Atlas includes a large header that identifies a specific pathology. The cross sectional images are presented in a comparative format with correlation with other diagnostic tests (eg. pathology, endoscopy, ultrasound) or 3D reconstructions, and always mention the histology or cytology results. In many cases, CT and MRI examples of a same pathology are displayed on the same page, which offers direct comparison of both CT and MRI, and give the unique opportunity to understand the pros and cons of each modality."


Julien Labruyère DVM CertVDI DipECVDI MRCVS
European and RCVS Specialist in Veterinary Diagnostic Imaging
VetCT