Atlas of Urodynamics, 2nd Edition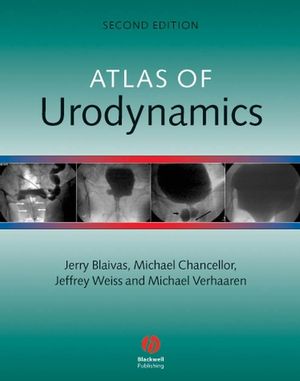 Atlas of Urodynamics, 2nd Edition
ISBN: 978-0-470-76579-1 April 2008 Wiley-Blackwell 256 Pages
Description
By pairing the highest quality images with succinct text, this fully revised atlas explains methods of diagnosis, evaluation and treatment



Detailing how to set up a urodynamic laboratory and discusses equipment and individual urodynamic techniques

Illustrating neurologic conditions, looking at the special problems of pediatric and geriatric patients

With unique, carefully reproduced urodynamic tracings and scans show you what to expect in the lab

The highly regarded author team is led by Dr. Jerry Blaivas, a recognized expert in the field who received the Lifetime Achievement Award from the Society for Urodynamics and Female Urology.
Section One - Patient evaluation.
Overview.
Pre-urodynamic evaluation.
Section Two - Techniques.
Cystometry.
Leak Point Pressure.
Uroflowmetry.
Electromyography.
Urethral pressure measurement.
Synchronous pressure/uroflow.
Video-urodynamics.
Sphincter electromyography.
Section Three - Diagnosis.
A Neuro-urology.
Normal and abnormal physiology of micturition.
Spinal cord injury.
Cerebrovascular accident, Parkinson's Disease and other intracranial diseases.
Multiple sclerosis and other demyelinating disorders.
Diabetes Mellitus.
Cauda equina, Infections and other spinal diseases.
B Male voiding disorders.
BPH, bladder neck obstruction and prostatitis.
Post-prostatectomy incontinence.
C Female Urology.
Stress incontinence.
Mixed incontinence.
Overactive bladder.
Bladder outlet obstruction.
Pelvic organ prolapse.
Leak point pressure in stress incontinence.
Painful bladder syndrome and interstitial cystitis.
D Pediatrics, geriatrics and bladder reconstruction.
Pediatric urodynamics.
Geriatric urodynamics.
Urodynamic evaluation of urinary tract reconstruction.
Appendix.
ICS recommendations on good urodynamic practice
The only atlas available on this highly visual and diagrammatic subject


Highly regarded author team

Explains diagnostic, evaluation and treatment methods

Part I details how to set up a urodynamic laboratory and discusses equipment and individual urodynamic techniques

Part II illustrates neurologic conditions, looking at the special problems of the pediatric and geriatric patient