Atrial Fibrillation Ablation: The State of the Art based on the Venicechart International Consensus Document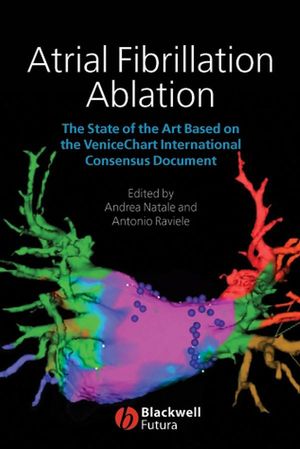 Atrial Fibrillation Ablation: The State of the Art based on the Venicechart International Consensus Document
ISBN: 978-1-405-18038-2
Oct 2007, Wiley-Blackwell
104 pages
Product not available for purchase
Description
In recent years, catheter ablation of atrial fibrillation has become a widespread treatment modality in electrophysiology laboratories all over the world. Nevertheless, many aspects of the therapy are controversial.


Developed by world-renowned experts in the field, this book presents a comprehensive and up-to date overview of all the most important and debated aspects of atrial fibrillation ablation, including:
• Ablation techniques and technologies
• Procedural endpoints
• Patient management pre-, peri- and post-ablation
• Anticoagulation issues
• Prevention and treatment of complications
• Definition of success and long-term results


The text expands upon the content of the VeniceChart international consensus document on atrial fibrillation ablation and is enriched by several explanatory figures and tables. It provides a highly valuable source of information not only for researchers and specialists in electrophysiology, but also for general cardiologists, internists, fellows in cardiology and medical students.
Preface.
Contributors.
VeniceChart Task Force Composition.
1 Anatomy of the left atrium and pulmonary veins.
2 Pathophysiology of atrial fibrilation.
3 Techniques and technologies for atrial fibrilation catheter ablation.
4 Endpoints of catheter ablation for atrial fibrilation.
5 Patient management pre- and postablation.
6 Anticoagulation issues.
7 Periprocedural and late complications.
8 Short- and long-term efficacy.
Index